GILLIAMs of Accomack County

Updated March 18, 2020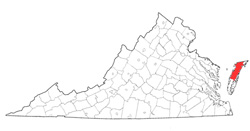 Background

Long before the first white settlers arrived in what is now Virginia, the Native Americans called the Eastern Shore by the name Accawmacke—meaning the "across the water place". Because the Native Americans of the Eastern Shore were friendly and access was easy the area along the Eastern Shore was soon colonized. The word Chesapeake is the modern English spelling of the Native American term for "great water".

The original shire of
Accomac
, created in 1634, covered the entire Eastern Shore. The name of the shire was changed to Northampton in 1642. This name change was part of an effort by the English to eliminate "heathen" names in the New World. So, an English name, Northampton, was chosen.

Since many settlers were choosing the Eastern Shore as their new home, in 1663 it was decided that the area should be divided into two counties. So, the northern half was renamed Accomac.

Accomac County was abolished for a time in 1670. Governor William Berkeley, wanted to arrest Col. Edmund Scarburgh for the murders of some Native American chiefs. This was one of the incidents that led to Bacon's Rebellion in 1676. Scarburgh claimed to be a Burgess for Accomac, and members of the General Assembly were immune to arrest. So, to circumvent this situation, Governor Berkeley nullified the law that created the county. This eliminated Scarburgh's protection from being arrested. When Scarburgh died in 1671, the General Assembly re-created Accomac County.

---
Parishes

Accomack Parish, 1634-1643, 1663
Saint George's Parish, 1762
---
Overview

Robert GILLIAM [Gellum] was living in Accomack County before 1681 for on 17 Mar of that year he along with four others underwrites a land transaction of John Barnes. By 1685, it appears that Robert has removed to Lewes, Sussex County, DE. The Administration of his estate was granted to William Clark of Lewes, Sussex County on 1 Dec 1685.

It is not known whether Robert is related to either Francis Gillam (transported by Daniel Jennifer of Accomack in 1664) or Mary Gilman (transported by Mr. John Fawcett of Accomack in 1666).

There is no record of an early immigrant named Robert GILLIAM arriving in Virginia. Some have argued that Robert is a son of Capt. John GILLIAM of Lower Norfolk. Others have suggested that Robert GILLIAM of Accomack is the Robert GILLIAM who was bound for Jamaica around the year 1677.
---
Deeds

17 Mar 1681
Certiff is this day granted to John Barnes for 250 acres of Land due by Rights Underwritten:
Robert Gellum
Even John Thomas
Tho. Dewell
John Hames
Elizabeth Thricky

---
Patents, Bounds and Headrights

20 Jun 1664
Northampton, alias Accomack Co.
Daniel Jennifer & Anne his wife, lately called Anne Toft, 11,300 acs. 20 Jun 1664
On Stokeley's Branch & Bundick's Br., 1450 acs. Part granted to Col Edmond Scarborough 29 Sep. 1662; 1400 acs. More also granted sd. Scarborough 20 Jun. 1664 both of which legally conveyed by him & Mary his wife to sd. Anne Toft 17 Aug. 1668; 1200 acs. granted sd. Anne 23 Feb. 1663; 7350 ac s due sd. Jennifer for trans. Of 145 pers: … Fra. GILLAM …

Cavaliers and Pioneers, Volume II, 102-103


5 Apr 1666
Accomack
Mr. John Fawsett (Fawcett), 937 acs. 5 Apr 1666
Accomacke Co., on N side of Occohanneck Cr., 5 Apr. 1666, Bounded on W by land of Richard Kellum, E by land of Dorman Swillivant & N. by land of Mr. Jno. West. 250 acs. parte hereof being one halfe of land granted to Richard Smith 24 Mar. 1650; 387 acs. another parte granted to Wm. Thorne 21 Nov 1654 & by their heires conveyed to sd. Fawcett; 300 acs. for trans. of 6 pers: Henry Merrell, Wm. Landers, George Canneck, Elizabeth Moulton, Ann March, Mary GILMAN.

Cavaliers and Pioneers, Volume I, 551
---
Sources
Bye, Arthur E. A Friendly Heritage Along the Delaware: the Taylors of Washington Crossing and Some Allied Families in Bucks County, Vantage Press, 1959.

Coldham, Peter Wilson. The Bristol Registers of Servants Sent to Foreign Plantations, 1654-1686. Baltimore: Genealogical Publishing Co., 1988. 49

Nugent, Nell Marion. Cavaliers and Pioneers: A Calendar of Virginia Land Grants, 1623-1800. Vol. 1:1-7.