GILLIAMs of Washington County
Updated May 24, 2019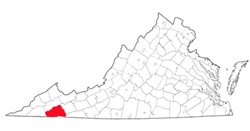 Background

Washington County is the first locality in the United States known to have been named for George Washington. It was formed from Fincastle County in 1776, and a part of Montgomery County was added in 1777. Its area is 563 square miles, and the county seat is Abingdon. A minute book for the period 1787-1819 was lost as well as many loose papers in a fire in the clerk's office on 15 December 1864.

---
Parishes

Washington Parish, 1776
---
Overview
The Washington County Surveyor's Book contains references to a James Gillilan who lived along the Holston River. He has been included since Thomas and Devereaux GILLIAM, sons of William and Mary Jarratt GILLIAM are said to have settled along the Holston. Devereaux GILLIAM is said to have built GILLIAM's Station at the confluence of the Holston and French Broad Rivers.

According to Ramsey's Annals of Tennessee Thomas GILLIAM settled in the forks of the Holston and French Broad Rivers near his brother, Devereaux GILLIAM, and was killed and scalped along with his son James GILLIAM by the Native Americans, in Raccoon Valley on 25 May 1793.

Other
GILLIAMs of Washington County had their roots in Buckingham County, VA.
---
Deeds
19 Jan 1803
between Abraham Childress and Jacob Teaters, Sr. of Washington Co . . . 300 ac . . . upon the waters of Copper Creek . . . Beginning near a path . . . line of John Simmons . . . line of Timothy Pennington . . . corner to William GILLAM . . .
Sig: Abraham Childers.
Wit: Timothy Pennington

Russell County, VA, Deed Book 3, page 428
---
Education
13 May 1880

GILLIAM, Emma L., Mendota, Va.
GILLIAM, Laura I., Mendota, Va.
GILLIAM, Mollie E. B., Mendota, Va.

Annual Catalogue of Hamilton Institute For the Year Ending May 13th, 1880
---
Slaves
16 Apr 1813
Statement of slaves brought into the Commonwealth of Virginia by John B. Gillum [sic] from the state of Tennessee on the sixteenth day of April 1813. To wit – One man of a black colour aged 17 years named Cooper of the Trade of Cabinet Maker
Sig: John B. GILLIAM

Washington County, VA Slave Importations, Washington County, VA Will Book 4, FHC Film 0034357
---
Surveyor's Book

29 Aug 1781
Moses McSpedon . . . 200 ac . . . commissioners certificate . . . on the south east side of Holston River . . . Beginning on a bank of a creek called Laurel fork running into Holston, Moses McSpaddin, assignee of Ebenezer Alexander, assignee of James Gillilan, assignee of John Walker . . . 300 ac . . . on the south side of Holston River opposite John Berry's, includes improvements, actual settlement made in 1774 . . . August 29, 1781

Washington County Surveyor's Record 1781-1797, page 41


16 Aug 1781
James Gillilan . . . 200 ac . . . Commissioners Certificate . . . on the waters of the Middle & South Fork of Holstein River . . . Beginning corner between Adam Kerr and Gillilan's land . . . at the Middle Fork . . . on the bank of the South Fork . . . June 1, 1782 - James Gillilan, assignee of Adam Carr, assignee of John Patterson . . . 200 ac . . . on the north side of Holston River adjoining the forks of the river the place where he now lives . . . includes improvements, actual settlement made in 1770 . . . August 16, 1781

Washington County Surveyor's Record 1781-1797, page 230


1 Sep 1781
Robert Ferrell & Billingsly Gibson . . . 382 ac . . . Commissioners Certificate . . . on a branch of Holstein River . . . December 20, 1782, Robert Ferrel & Billingsly Gibson, assignee of James Gillilan, assignee of Nisy Huskins . . . 400 ac . . . on the waters of Holstein, includes improvements, actual settlement made in 1772 . . . September 1, 1781

Washington County Surveyor's Record 1781-1797, page 239


11 Mar 1796
William Bradshaw, 40 ac, treasury warrant #8136 dated February 2, 1782 -
On the south side of Holstein River, on his old patent line with James Gilliland's line. March 11, 1796

Washington County Surveyor's Record 1781-1797, page 459

---
Sources
Annual Catalogue of Hamilton Institute For the Year Ending May 13th, 1880

Russell County, VA, Deed Book 3, page 428

Washington County Surveyor's Record 1781-1797

Washington County, VA Slave Importations, Washington County, VA Will Book 4, FHC Film 0034357