GILLIAMs of Bath County
Updated March 16, 2020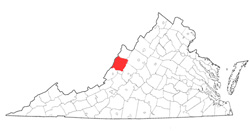 Background
Bath County was given its name either for the many mineral springs found in the county or for the town of Bath in England. It was formed from
Augusta
,
Botetourt
and Greenbrier (West Virginia) Counties in 1790. Its area is 540 square miles, and the county seat is Warm Springs.
---
Parishes
Bath County was formed after the Disestablishment.
---
Overview

The daughter of Richard and Martha GILLIAM of Rockbridge married in Bath County. This is the only known GILLIAM to have lived in Bath County.
---
Marriages
11 Jul 1826
John Kincaid married Juriah Gillum

[Juriah, the daughter of Richard GILLIAM and Martha Hodge married John Hodge Kincaid, the son of David Kincaid and Sarah Hodge. It is said that Juriah died in 1836 and that John married secondly Dorcas Ann Henness.]
---
Wills
24 Dec 1811

Will of Robert Wiley

To Son Alexander $1,
to son Robert all money now in possession , all bonds, due and all property including waggon, farm implements, including ploughs, hoes, mattocks, axes, shovels, spades, gears, set of cooper's tools, all horses, cattle, sheep and hogs, household and kitchen furniture consisting of beds, bed covers, bedstead, cupboards, tables and chairs, pots, ovens and kettles
To sons James, Thomas and William, $1 each
To daughters Betsy GILLIAM, Rebecca Bates, Martha Carpenter, Anne McGlaughlen, and Jane McGlaughlen, $1 each
to Heirs of daughters Mary and Nancy Kirkpatrick, $1 each
Exec: Son Robert
Wit: Thomas Kinkead, John Carpenter and William Wilson

Probated Feb 1812 Court

Bruns, Jean Randolph. Abstracts of the Wills and Inventories of Bath County, Virginia, 1791-1842. Genealogical Publishing Company, 1995
---
Sources
Bruns, Jean Randolph. Abstracts of the Wills and Inventories of Bath County, Virginia, 1791-1842. Genealogical Publishing Company, 1995