GILLIAMs of Mecklenburg County
Updated January 18, 2021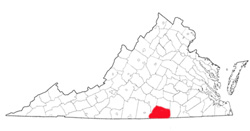 Background
Mecklenburg County was named, like Charlotte County, for Charlotte of Mecklenburg-Strelitz, consort of George III. It was formed from
Lunenburg
County in 1764. Its area is 624 square miles, and the county seat is Boydton.

---
Parishes
Saint James' Parish, 1764
---
Overview
It appears that the earliest Gilliams of Mecklenburg County, VA had connections to the Taylors of Caroline County, VA. These Gilliams are later found in Granville County, NC and later Newberry District, SC.
---
Chancery
1773
GILLIAM, John Jr. and Margaret Fawn exx. of Fawn ads. John Cureton assignee of William Cureton
[Margaret Currie, the daughter of Ann Bland and her second husband George Currie, married first a Fawn and second, Thomas Armistead. Margaret left a will in Prince George County naming son John Fawn and daughter Anna Currie Armistead, and other children she might yet have. Although her husband was still living, she reserved the right to dispose of her own estate (Will dated 19 Aug 1777, recorded 10 Jan 1792). It is presumed that John GILLIAM, Jr. also had Prince George ties.]
Burned Record Counties Database, Library of Virginia.
---
Deeds
4 Jul 1758
John GILLIAM and Frances, his wife, of Granville County, NC to Francis Taylor of Caroline County, VA . . . cons. 300 pounds . . . 728 acres on south side of Roanoke . . . now in the tenure of said Francis Taylor.
Sig: John Gilliam, Francis Gilliam
Wit: William Taylor, Moses Street, John Platt
Rec: 4 July 1758

Early Settlers of Mecklenburg County, VA, Volume II, compiled by Katherine B. Elliott, South Hill, VA

[This deed is recorded Lunenburg County, Deed Book 5, pages 259-261. Supposedly this tract of land is in present-day Mecklenburg County.]


4 Dec 1769-July Court 1770
Robert GILLAM of Granville County, NC to Edmund Taylor of Mecklenburg County, VA, 150 pd. VA money for 1220 acres adj. Brickle, Bullock, Glover, Kennon, Crawley and the Country line.
Wit: John Doswell, Nat. Robinson, and Joseph Taylor
Granville County, NC, Deed Book I-J, page 102

Virginia Genealogical Society Quarterly, Migrations: Hanover County References in Granville County, N.C, Volume IX, Number 4
---
Marriages
8 Feb 1787
Ladd, William & Martha GILLUM, 8 Feb 1787, Jacob Ladd, Sec.

Nottingham, Stratton. Marriage License Bonds of Mecklenburg County, Virginia from 1765 to 1810. Onancock, VA: Stratton Nottingham, 1928.

22 Jan 1791
Harper, Thomas of Dinwiddie Co., & Lucy GILHAM Booth, Thos. Booth, Sec.

24 Sep 1811
Wm Drumright and Sally Gelleam [GILLIAM]
[Sarah, the daughter of Drury Gilliam, and wife of William Bradley, married second, William Drumright]

Elliott, Katherine. Marriages of Mecklenburg County, 1765-1810
---
Taxes

1748, 1749, and 1750
John GILLUM

---
Wills
12 Apr 1803

Will of Thomas Booth


In the name of God Amen, I Thomas Booth of Mecklenburg County and State of Virginia being sick and weak in body, but of perfect mind and memory do make and ordain this to be my last will and Testament in manner and form as following:

Imprimis my desire is that all the perishable part of my estate shall be sold by my Executors in discharge of my Just Debts (except what's hereafter devised)

Item I give and bequeath unto my loving Daughter, Mary M Winkfield the following Negroes she has now possession, to wit, Hannah, Daniel, Henry, Evelina, Jacob, Junney, also two beds and furniture and one Set of China & Silver Tea Spoons which she has now in her possession to her and her heirs
forever.

Item I give and bequeath to my beloved daughter Rebecca Booth the following Negroes, to wit, one Negro woman by the name of Milly and Girl the name of Mariah, also one by the name of Clary, and one boy by the name of Joshua, also two boys by the name of Heartwell & Woodlief, also two beds and furniture, one set of China and half Dozen Silver Tea Spoons to her and her heirs forever.

Item I give and bequeath to my son, Harper Booth the land & plantation whereon he now lives, also three Negroes, to wit, Jack, Lissie and Tom, one Sorrell mare, four head of Cattle, one bed and furniture which he has now in possession to him and his heirs forever.

Item I give and bequeath to my son Thomas Booth three negroes to wit, Joe, Stephen and Betty, one bed and furniture, four head of Cattle, one dark bay mare which property he has now is possession except Negro Betty to him and his heirs forever.

Item I give and bequeath to my daughter, Judith Booth, six Negroes to wit, Pattey, a woman, also Wilson and Nelson her Children, Edy, Gooding and Billy, two beds and furniture, one Set of China ware, 1/2 dozen Silver tea Spoons to her and her heirs forever.

Item I give and bequeath to my son Reuben Booth three Negroes to wit, Sam, Allen and Nancy black one sorrell horse, also the lands and plantation whereon he now lives to take possession of the land at the death of my beloved wife, Saving and reserving one half of my dwelling House to my three daughters, Rebecca, Judith and Salley Booth until they shall marry, also one bed and furniture, two Cows &Calves two Sows and pigs, pott & Oven, one set Caininau? Cups & Saucers, one set Knives & forks, one Set Caininau? Table Spoons to him and his heirs forever.

Item I give and bequeath to my daughter, Massey? Jones six Negroes to wit, Amy, Cressy, Bob, Jinsey, Emmanuel, Metilda, two beds and furniture, yoke of Steers, one Set China ware, half dozen Silver Tea Spoons which she has now in possession to her and her heirs forever.

Item I give and bequeath unto my daughter Salley Booth six Negroes, to wit, Celar, Jane, Ned, Edmund, Peterson, and Amy, two beds and furniture, one Set China ware, half dozen Silver tea Spoons to her and her heirs forever.

Item I lend to my beloved wife the land & plantation whereon I now live during her natural life and all the rest of my estate both real and personal not before devised, and at her death, my desire is that my two granddaughters, Betsy W Harper and Judith GILLIAM Harper shall divide equally with my legatees of all the Negroes and other perishable estate above lent. I do Constitute and appoint my son Reuben Booth and Harper Booth and Charles Cordle my lawfull Executors to this my last will and Testament.
In Witness whereof I have heretofore set my hand and affixed my seal this twelfth day of April one thousand eight hundred and three.
Sig: Thomas Booth Senr (LS)

Signed, sealed in the
presence of
Wit: Martha Jones Malone, Isaac Williams, Thomas C Singleton

At a court held for Mecklenburg County the 12th day of September 1803
This will was proved by the Oaths of Isaac Williams and Thomas C. Singleton, Witnesses thereto and ordered to be recorded and On the motion of Reuben Booth one of the executors therein named who made oath there and together with Joshua Winckfield, Thomas C. Singleton and William Drumwright his securities entered into and acknowledged their hand in the penalty of fifty thousand dollars Conditioned as the law directs. Certificate was granted him for obtaining a probate thereof in due form-liberty being reserved for the other executors therein named to join in the probate when they shall think fit.
Teste: William Baskerville CC

Mecklenburg County, VA, Will Book 5, page 95
---
Sources
Ancestry.com. Mecklenburg, Virginia Marriages, 1765-1810 [database online]. Orem, Utah: MyFamily.com, Inc., 1999. Original data: Nottingham, Stratton. Marriage License Bonds of Mecklenburg County, Virginia from 1765 to 1810. Onancock, VA: Stratton Nottingham, 1928

Burned Record Counties Database, Library of Virginia.

Elliott, Katherine B. Early Settlers of Mecklenburg County, VA, Volume II, South Hill, VA
Elliott, Katherine. Marriages of Mecklenburg County, 1765-1810
Mecklenburg County, VA Marriage License Bonds

Kerr, Jr., Mrs. John. Virginia Genealogical Society Quarterly, Migrations: Hanover County References in Granville County, N.C, Volume IX, Number 4

Southside Virginia Genealogies. William Randolph (c.1650-1711) of "Turkey Island"