GILLIAMs of Stafford County
Updated May 23, 2019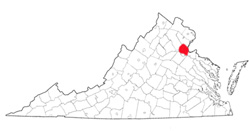 Background
Stafford County was named for the English county. It was formed from
Westmoreland
County in 1664. Its area is 277 square miles, and the county seat is Stafford. Many pre-Civil War county court records were lost to vandalism during the war. Scattered years of deeds, wills, and orders have survived as has an old General Index.
---
Parishes
Brunswick Parish, 1776
Chotank Parish, abt 1680-abt 1702
Hamilton Parish, 1730-1731
Lower Parish, abt 1664-abt 1680
Overwharton Parish, abt 1702
Potomac Parish, 1664-bef 1680
Saint Paul's Parish, bef 1702-1720
Stafford Parish, abt 1680-bef 1702
Upper Parish, abt 1664-bef 1680
---
Overview
Few GILLIAMs lived in Stafford County in during the Colonial period. One such GILLIAM was Priv. William GILLIAM who enlisted in the 1750's under Capt. Robert Spotswood.
---
Marriages
14 Feb 1866
Doran H. Stearns married Emeline GILHAM/GELHAM
---
Military
20 Nov 1755
William GILLIAM, 20 Nov 1755, Stafford, 19, 5' 6", planter, Virginia, well made, short brown hair, dark complexion.

Virginia Colonial Soldiers, French and Indian War, 1754-1763, page 79

[It appears that William is the William of Caroline who is dismissed of his master John Karnall in Caroline County on 13 Nov 1755.]

GILLIAM, William. Pvt. Capt Robert Spotswood Co. Enlisted Nov. 20, 17__ as Pvt. Listed on roll dated July 13, 1756 as 19 years old, 5'6" tall, planter. Born Virginia.

Virginia Military Records, pg. 388
---
Sources
Virginia Colonial Soldiers, French and Indian War, 1754-1763, page 79

Virginia Military Records, page 388