GILLIAMs of Barbados, West Indies
Updated March 23, 2021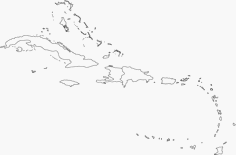 B
ackground
The first English ship touched the island on May 14th 1625 under the command of Captain John Powell. The island was therefore claimed on behalf of King James I.
On February 17th 1627, Captain Henry Powell landed with a party of 80 settlers and 10 slaves to occupy and settle the island. This expedition landed in Holetown formerly known as Jamestown. The colonists established a House of Assembly in 1639.
People with good financial backgrounds and social connections with England were allocated land. Within a few years much of the land had been deforested to make way for tobacco and cotton plantations.
During the 1630s, sugar cane was introduced to the agriculture. The production of sugar, tobacco and cotton was heavily reliant on the indenture of servants. White civilians who wanted to emigrate overseas could do so by signing an agreement to serve a planter in Barbados for a period of 5 or 7 years. To meet the labour demands, servants were also derived from kidnapping, and convicted criminals were shipped to Barbados.

---
Parishes

Christ Church
Saint James
Saint Philip
Saint Thomas
---
Overview

To date, the identity of the Barbados GILLIAMs and whether they have any connections to the GILLIAMs of Virginia has not been secured. However, since there are numerous Harris/GILLIAM connections in Virginia, and since the name Epaphroditus appears in the GILLIAM line of New Kent County and the Carringtons who married the New Kent GILLIAMs had a large presence in Barbados, these records have also been included.
---
Census

1679
St. James Inhabitants
GILLHAM Emanuell
Christ Church Inhabitants
GILHAM John

1680
GILHAM John Christ Church GILLHAM Emanuell St. Thomas GILLHAM Emanuell St. James

---
Immigration

Emanuell GILLHAM
St. James Parish, Barbados, 20 December 1679
ANN: Acco: of the: land As Itt: Stondeth: In ye church Books: With the Number of Servants And Negroes With the Names: of the Owners thereof In the psh: of St James: As: Was taken by the Church Wardens of the said Parrish the 20d December 1679 (page 502)

---
Indentured Servants

GWILLIAM John of Edlain, Radnor
Bristol, June 4 1655
Indentured by Thomas Woodward, woollen draper of Bristol

GWILLIAM Lodwick
Bristol, December 15 1662
Indentured by John Water

---
Parish

Christ Church
Baptisms
31 Aug 1649
Ann GILHAM, daughter of John

Saint Philip Parish
Baptisms
6 Mar 1697
John son of Eleanor GILLIAN

Barbados Baptisms, 1637-1800, St. Philip Parish, Page 462
---
Monmouth Rebellion

1685
A list of some of some of those executed for their part in the Monmouth Rebellion of 1685
Monmouth's Rebels
GILHAM, John, Jnr. of Shepton Mallet

---
Wills, Estates and Inventories

Will of Thomas HARRIS
St Thomas Parish, 10 Nov 1685.
RB6/40. p. 294
Mo [mother?] Grace GILLIAM, my estate which is 1/3 part of the estate of John Frost decd in St James Parish; sis Margaret Harris.
Signed Thomas Harris
Wit: Ebed: (x) Southwood. Emanuel (x) GILLIAM. Epaphroditus Southwood
Proved 2 Nov 1686

Barbados Wills and Administrations, Vol. II, Wills and Administrations, Page 156


Will of Thomas Churchman, blacksmith
St. Peter's Parish
1 Aug 1687
Friend Robert Wood, mariner, and Mrgaret Wood his wf Xtrs and legatees.
Sig: Thomas Churchman
Wit: Char: GILLIAMs, Joseph Marche/Marcle, Alice (x) Payne, Joseph Burnand
Proved 19 Oct 1687

Will of Epaphraditus SOUTHWOOD
St Thomas Parish, 8 Oct 1701,
RB6/37, p. 562
Son Richd: Southwood; dau Elizabeth Southwood at 21; son Elisha Southwood at 21; son Benjamin Southwood at 21; my sis Elizabeth Southwood; 4 acres in St Thomas bounded by Capt. John Sutton and land formerly of Capt. Holly decd; land I purchased of Emanuel GILLHAM in St Thomas bounding the land of Capt. Kelly decd and John Aris Jr deed; 5 acres I purchased of John Kelly in St James Parish bounded by land of Mr. Jordan, Capt. Kelly decd, and Dock Foster decd; my wf Belinda Southwood
Xtrx; friends Thomas Hall and Hugh Brandon
Xtrs in trust.
Signed Epaphraditus Southwood
Wit: Ruth Feake, Francis Smithwike, John Teake (Feake)
Proved 3 Dec 1702

---
Sources
Barbados Wills and Administrations, Vol. II, Wills and Administrations, Page 156
Hotten, John Camden. The Original Lists of Persons of Quality; Emigrants; Religious Exiles, Political Rebels; Serving Men Sold for a Term of Years; Apprentices; Children Stolen; Maidens Pressed; and Others Who Went from Great Britain to the American Plantations, 1600-1700, Edited by John Camden Hotten. Public Records Office, State Papers, Colonial Office General, CO1/44/47/f141-379, State Papers, CO28/16/2/f100-375