Eppes Island and Charles Friend
Updated March 7, 2016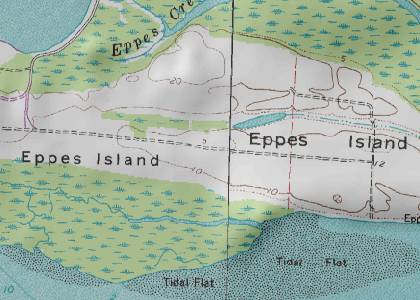 Background

Though this deed was recorded in Charles City and involved residents of Prince George. It has been posted here since it involved William Gilliam and Christina Eppes, his wife.


Eppes Island has been occupied by successive generations of the Eppes family since 1624, making it the oldest family farm in Virginia, still owned by its original owners' descendants. Under the Virginia Company, and under the Crown before the establishment of shires, the Charles City Corporation was divided into "hundreds" for purposes of government.

Each hundred was under the command of a captain who was responsible for military and civil order. Shirley Hundred, one of the more prosperous, was divided into two parts with a commander for each. The two parts were described as "in the Island" and "in the Maine." By 1624 the Eppes family was established on the island, and William and Francis Eppes are both described in that year as being of the Island. Over the following years the Eppes family (descendants of Francis) bought out the other landowners. In 1824 they purchased the last parcel from Hill Carter, thereby consolidating the estate. The western end of the island contains the only modern habitation; a house first built about 1790. A site near the eastern end of the island has been excavated and was found t o be that of another eighteenth-century house. Slave quarters still stand in ruins. A site on the easternmost field apparently is that of still another eighteenth-century house. John Smith met Opechancanough here in 1607, on his first voyage up the James. This island was one of the Pamunkey chieftain's principal seats. Edmund Ruffin commented in his Essay of Calcareous Manures t h a t the soil of Eppes Island was uniquely rich in Tidewater Virginia. This is one of the few sites of particular plantations ("hundreds") from the period of the Virginia Company, which can be identified, and which is available for archaeology by officially recognized groups.

---
Overview
Christian Eppes, daughter of Richard Eppes and Christian Robertson, married William Gilliam, the son of John Gilliam and Elizabeth Poythress.

Christian and William had four children:
Elizabeth who married Nathaniel Green Friend, Jane who died young, John who died leaving a Will dated 1819 and William who died about 1842. It does not appear that William married.

Christian dies around 1830 and being survived by children Elizabeth and William.
Elizabeth and Nathaniel Green Friend had three children: Dr. Nathaniel Green Friend, Charles Friend and John Gilliam Friend. It does not appear that William married.

As grandson and heir of Christian Gilliam and nephew of John Gilliam, Charles Friend inherits "Eppes Island."


It should be noted that Justice of the Peace that oversaw the recording of this deed was Marius Gilliam, the great grandson of John Gilliam and Elizabeth Poythress. (Charles Friend was also a great grandson of John and Elizabeth).
---
This indenture made this 4th day of August in the year of our Lord one thousand eight hundred and forty between Charles Friend and Catherine B. his wife of the county of Prince George of the one part and Mary Cocke of the same county of the other part

Witnesseth that the said Charles Friend and Catherine B. his wife for and in consideration of the sum of one dollar the receipt whereof is hereby acknowledged to them by the said Mary Cocke in hand paid the receipt whereof is hereby acknowledged, they the said Charles Friend and Catherine B. his wife have granted bargained and sold and by these presents do grant bargain sell and convey unto the said Mary Cook [sic] her heirs and assigns all the right title claim interest, and demand which they the said Charles Friend and Catherine B. his wife now have or may at any time hereafter have as joint heirs of the late Mrs. Christian Gilliam to a certain tract or parcel of land contain fifty eight acres, three roods, and thirty one _____ be the same more or less lying and being in the county of Charles City and known by the name of "Eppes Island" that being the portion of said Island to which the heirs of the late Mrs. Christian Gilliam are entitled agreeably to the plat made by Jonathan Smith and filed with in the suit of Friend vs. Cocke and wife.

To have and to hold the said right title and interest in the said tract or parcel of land with the appurtenance thereto belonging to her the said Mary Cocke, her husband and assigns to the only proper use and behoof of the said Mary Cocke heirs and assign forever
And the said Charles Friend and Catherine B. his wife for themselves, their heirs executors and administrators do hereby covenant and agree to and with the said Mari Cocke her heirs and assigns that they the said Charles Friend and Catherine B. his wife and their heirs and against all persons whomsoever shall and will by these presences forever ___ and defend
In testimony whereof the said Charles Friend and Catherine B. his wife have hereunto set their hands and affixed their seals the day and year above written.
Sig: Chas. Friends, Catherine B. Friend

Prince George County to wit
We John E. Meade and Marius Gilliam Justices of the peace for the County aforesaid in the State of Virginia do hereby certify that Charles Friend a party to a certain deed bearing date the fourth day of August 1840 and hereto annex personally appeared before us in our county aforesaid and acknowledged the same to be his act and deed and _____ us to certify the said acknowledgement to the Clerk of the County Court of Charles City in order that the said deed may be recorded
Given under our hands and seals this 24th day of March 1841.
Sig: Jno E. Meade, JP and Marius Gilliam, JP

Prince George County to wit
We John E. Meade and Marius Gilliam Justices of the peace for the County aforesaid in the State of Virginia do hereby certify that Catherine B. Friend the wife of Charles Friend parties to a certain deed bearing date the fourth day of August 1840 and hereto annexed personally appeared before us in our county aforesaid and being examined by us privily and apart from her husband and having the notion of the said deed fully explained to her she the said Catherine B. Friend acknowledged the same to be her act and deed and declared that she had willingly signed, sealed and delivered the same and that she wished not to retract it.
Given under our hands and seals this 24th day of March 1841.
Sig: Jno E. Meade, JP and Marius Gilliam, JP

At a court held for Charles City County at the Courthouse on Thursday the 19th day of August 1841. This indenture was produced in Court and having been acknowledged according to law by Charles Friend and Catherine B. his wife parties to the same as her certificates to said Indenture annexed in together with said certificate ordered to be recorded.
Teste Ro. W Christian,

---
Sources
Charles City County Deed Book ___, page 144-145