Pamunkey United Methodist Church
15700 Pamunkey Church Road, Lanexa, VA 23089

Updated March 31, 2016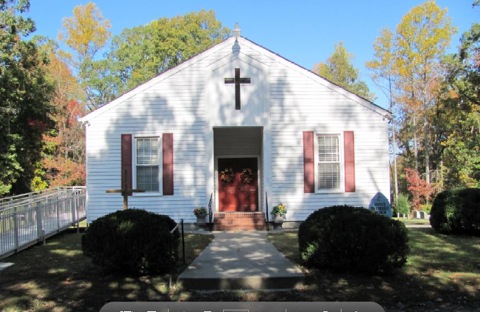 Pamunkey Methodist Church was founded in early 1832 as a 15 x 18 log structure having a capacity of about 30 members. This building was used until 1850 when the current sanctuary was constructed. Pamunkey was one of a number of churches on a circuit riders route, common in that time. Pamunkey is located in the east end of New Kent County, Virginia approximately 35 miles east of Richmond and 7 miles west of West Point.

Directions to the Church:
From I-64 take exit 220 (West Point) onto SR-33 east
Travel approximately 1 1/2 miles to the stoplite at the intersection of SR-249 and SR-33
Turn left on SR-249 west and travel approximately 1 mile to Pamunkey Church Road
Turn left on Pamunkey Church Road (gravel) and travel approximately 1/2 mile
Pamunkey Church will be in a quiet setting on your right.
Images of Tombstones

James A. Gilliam
May 28, 1903
Nov 24 1975
C. Albert Gilliam, Jr.
Feb 2 1920
Aug 4 1985

Benjamin Myrtland Gilliam
February 19, 1889
January 22, 1971

[Benjamin was a Mason]


Claude D. Gilliam
Mar 8, 1876
Nov 11 1932

Loving Mother
Bessie E. Gilliam
Jenkins
June 2, 1936
Jan 5, 1999

Gilliam
Father
1845-1896

[Epaphroditus Gilliam]


Mother
1857-1934

Sister
1896-1979

Brother
1879-1888


Ida M. Gilliam
16 Feb 1918
9 Mar 2011


J. C. Gilliam
Born Mar 27, 1836
Died Sept 29, 1905
Mark the perfect man, and
Beheld the upright for the
End of that man is peace.
Psalm 37:37

Mother
In Loving Memory
Of
S. Elmore Gilliam
Born Feb 5, 1847
Died Sept 22, 1917
Peaceful slumber

John William Franks
Sept 18 1859
Jan 18, 1944

Priscilla Gilliam Franks
1851 – 1886

Lucy W. Franks
Jan 8, 1872
Oct 2, 1945

Baby
Franks
Eliza Gilliam Hicks

Ryland Hicks
9 months

Lucy Hicks

Sheppherd Hicks

Baby Hicks

Baby Hicks
---
Sources