The Vestry and Register of St. Peter's Parish
Updated March 2, 2016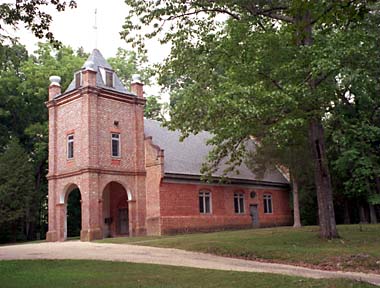 Overview
Virginia's General Court confirmed the establishment of St Peter's Parish on April 29, 1679. In the summer of 1700 the vestry ordered that a second Lower Church replace an earlier, structurally weak building known as the Broken Back'd Church. The new church, begun in 1701, was in use by July 1703. To-day it is the oldest parish church in the Diocese of Virginia and the third oldest in the Commonwealth.

Martha Dandridge, who would later become the wife of Col. George Washington, was born at Chestnut Grove on June 2, 1731. She married Col. Daniel Parke Custis, a member of the vestry and former churchwarden in June 1749. Her father, Major John Dandridge, had also served as churchwarden and vestryman, and her great-grandfather had been the first rector of nearby Bruton Parish. After eight years of marriage she was widowed with two surviving children.

On the sixth of January 1759 the Rector of St Peter's Parish, the Rev'd Mr. David Mossom, solemnized the marriage of Col. George Washington and the Widow Custis. It has always been assumed that another future First-Lady, Letitia Christian, later the wife of President John Tyler, was baptized in the parish church in 1790.

The original portion of St Peter's Parish Church is one of the few Jacobean structures in America and its 1740 stump tower is also rare. The body of the church is laid in English bond as are only three other colonial Virginia churches. In the church-yard are a number of colonial tombs, and the parish still its Vestry Book (1684-1758) and Register (1685-1786).

The parish was represented by Col. William H. Macon at the first Convention of the Diocese of Virginia in 1785. From 1843 when the vestry reorganized and called the Rev'd Edwin A. Dalrymple as rector, Episcopalians and Presbyterians somewhat as one congregation until 1856 by alternating the Liturgy from Sunday to Sunday.

During the War Between the States the church was desecrated by Federal troops. General Robert E. Lee, whose wife was Mary Ann Randolph Custis -- Martha Washington's great-granddaughter -- wrote on October 23, 1869 that *St Peter's is the church where General Washington was married and attended in early life. It would be a shame to America if allowed to go to destruction.*His son, General William Henry Fitzhugh Lee, superintended the work of restoring the old church, contributed needed lumber, and furnished teams and hands for the hauling.
---
1687, August 25:
John, son, of Richard GILLAM baptised
page 357

1689, 28 February
The several persons named in Companys y't were ordered to prosession & to Remark ye bounds of each man's land: Viz ... Rich. GILLIAM
page 17

1689, May 4
The severall P sons names in Companys y: were ordered to Possesion & Remark y bounds of each mans Land Viz: Mrs. GILLIAM etc.

Present:
Gideon Macon, Thom. Mitchell, Mr. Hen. Wyatt, Corn' Dabnie, James Moss. John Ropor, Will Bassett - Church

Wardens:
In pursuance of an Act of Assembly enjoyning ye Remarking of each man's land in each particular parish once in four years.
It is ordered by this present vestry in obedience to an order of New Kent County Court, bearing date ye 28 day of Febroary, 1689, ye date vestry doe putt their parishes into precincts and appoint a time for ye prosessioning and Remarking ye bounds of each man's land.
It is, therefore, ordered by this present vestry y't Charles Turner, Clk. of them, doe forthwith proportion ye persons within ye s'd parish of St. Peter's to go on prosessioning sometime between ye tenth day of this present May and ye tenth day of June next, and y't all of ye s'd orders be forthwith issued out and be delivered to ye s'd persons therein concerned
It is ordered likewise y't Mr. John Ropor & Mr. Will. Basset, Church wardens, or either of them do agree with Mr. Williams, minister, to officiate once a month at each church on any day y't ye s'd Mr. Williams & ye Church wardens shall fix.
It is ordered by this vestry y't Mr. David Craford, Mr. John Parke, Mr. Will. Bassett, Mr. George Smith do show a just reason for their appearing at this present vestry, otherwise be fined 50 Lbs. of Tobb. & Cask, each person according to a former agreement made and recorded, & ye reason to be shown at ye next vestry.

Per me, Charles Turner, Clk of Vestry. Gideon Macon, James Moss, Thom. Mitchell, John Ropor, Corn. Dabonie, Will. Bassett. Henry Wyatt,

The several persons named in Companys y't were ordered to prosession & to Remark ye bounds of each man's land: Vis.: Mr. Alford Jno. Alldridge Rich. Allen Ruth Allen Renall Allen Ronall Allen Jno. Andrenson Jno. Andrewson Rob't. Andrewson Wm. Atkinson James Austin Chris. Baker Benj. Balkley Wm. Barne Mr. Wm. Bassett Wm. Bassett, Jun'r. Mr. Batte Jno. Baughn Wm. Beateson Thos. Bird James Blackwell Edmund Bodford Rich'd Bollork, Jun'r. Rich'd Bollork, Sen'r. Wm. Book Mr. Boots Edw. Bornett Chas. Bostick Ned Botler Mrs. Botts Chas. Bran Dan Britt Jer. Brooke Jno. Browne Edward Broxom Antho. Burrus Rich'd Cawdry Rob't. Chandler James Hen. Chilloe Thos. Clarke David Clarkston Mr. Claybourne Mr. Clayton Mr. Conding Will. Cox David Craford, Jun'r. Mr. Crawford Jno. Crawford Will. Cromp Steph. Crump Mr. Dabbony Fr. Day And. Davis Andrew Davis Rob't Deprosse Edw. Doritt Jno. Dowie Fran. Eastor Rob't Elleson Jno. Engleebricht Jno. Epecon Chas. Fleming Capt. Joseph Forster Garrott Mr. Gentry Rich. GILLIAM Jno. Gontin Hen. Green Edw. Gross Edward Haris Mr. Field Harte Robt. Harman Wm. Harman Jno. Hight Fran. Hill Will Hodges Rob't. Hoghes Bird Hoghes Rowland Horsley Edw. Howsheus Rob't Hughes Mrs. Isard Thom. Jackson Mr. Jarrott Bird Joanes Jno. Joanes Rich'd Joanes Thos. Joanes Edw'd Johnson Jno. Kinborn Rob't. King Jno. Lewes Rob't. Lansestor Mr. Lightfoot Mrs. Eliz. Littlepage Nick. Loson Chas. Lovell Mr. Jno. Lyddon Wm. Major Jno. Mark Thos. Markgold Martin Martin Thos. Martin Hen. Martin Wm. Martinn Jno. Mashay Mr. Mason Wm. Meanly Jno. Medlook Tho. Meridie Nic. Mills Wm. Millington Steph. Mitchell Mr. Mitchell, Sen'r. Steph. Moon Jos. Moon James Moor Pelham Moore Thos. Moorman Edw. Morgan Peter Morse Lyon Morriss Geo. Moss Mr. James Moss Peter Moss Thom. Moss Wm. Moss James Norkton Jno. Osling Thos. Paddison Capt. Page Col'l Page Jno. Paine Geo. Pargeston Jno. Parks, Sen'r. Jno. Parks, Jun'r. Mr. Pasley Coll. Pates Jno. Peard Dow. Penix Mrs. Pierce Mr. Poindexter, Jun'r. Mr. Poindexter, Sen'r. Mr. Polegreen Margaret Prior Edw'd. Ragglin Widdow Ray Jno. Realy Tho. Ronalle Joanes Ronalls Jonas Ronalls Mr. Jno. Ropor Jno. Sands James Sanders Mr. Geo. Smith Mr. Smithson John Snead Thos. Snead Rob't. Speare Jno. Spurlock Wm. Stone Alex. Strange Hen. Strange Jno. Talle James Tate Tho. Taylor Sam. Thomas Rob't. Thomson Thos. Tinsly Jor. Torker Hen. Turner Wm. Turner John Vaughn Abra. Venable Jno. Waddell Sam'l. Waddy Jno. Wakefield Jno. Wall Dow Wallton Fran. Warren Thos. Wattson Sam'l Weaver Gilles West Widow Williams Thos. Willkins Thos. Wilkinson Wm. Winston Young Witty James Woody Mrs. Workman Mr. Hen. Wyatt
The inhabitants belogning to St. Peter's parish in pamanach nech, vis.:

Chastain James Adams Thos. Carr Bird Jno. Borross Geo. Cox John Davis Hen. Dillon Mrs. Gooch Mr. Goodin James Henderson Col. Johnson Rob't. King Mr. Gideon Macon Thos. Nichols Capt. Fran. Page Mrs. Susana Page Edm. Smith Thos. Spenser Wm. Turner
By order of ye vestry

Registered Per me,
Charles Turner, Clk of ye vestry.

1690, Aug 29
Elizabeth, daughter of Richard GILLAM baptised
page 357

1698, July 10
Where as Capt Thomas Bray by the Information of will Hughes hath informed this vestry that there is a man Child Lately brought to the House of Richard Gillum in this parish: and no parents Can be found for the Same: the Church wardens are there for ordered forth with to take Care that the Said Child be returned to the place from whence it Came or to Caus the Said Gillum to give Good Securitie to Save ______e parish harmles.
page 58

1699, March 26
William, son of Richard and Margaret Gillum baptised
page 357

1701, Nov 2
Margaret, daughter of Richard Gillum, Bap.
page 358

1705, Apr 1:
Rich, son of Rich GILLAM, bap.
page 358

170(?), Epaphroditus, Son of Rich GILLAM.
page 358

1711, Jan 27
James, son of John Guillam Baptised.
Born Dec 1710
page 358

1713, Feb 15
Richard Guilam died
page 431

1715, Feb 20
Agnes, daughter of John Guillam born. Xned Mar 21
page 358

1715? March 5th
John Son of Jn Guilam Born
page 359

At a Vestry held at James Taylor's Dwelling House for St. Peter's Parish, april ye 27th 1715
Page 118
1715, Apr 27
Ordered that John Guilam Shall Keep Rich Collam for five hundred pounds of Tobacco one year. Provided sell: Walker will not Keep him for t. Same or Less.
page 161

1715, Nov 21
To John Guilam for keeping Elis Johnsons, Child, 00250.
page 163

Date unknown:
Order y. John Guillam be allow 800 Tobacco for keeping Edw. Bedford one year.

At a Vestry held at the Parish Church of St. Peter's on the Second day of September 1722
Ordered that Marg't Guillam have 600 lb of Tobacco for keeping Rebecca Spurlock.
Ordered that Jno. Guillam, have 800 lb of Tobo for keeping eliz Johnson.
page 133

At a Vestry held for St Peter's Parish Sep'r 30th, 1723
To Jno GILLIAM for keeping Eliz. Jnoson, 815; Tho Howl for Keeping Edm'd Bedford 1515
To Ste. Moone, Eliz. Scruggs, ___ Marg't GILLIAM ____ Mr. Wm. Waddill __ _____ 2991
page 137

1724, Oct 26:
Richard, son born to William Guilliam,
page 431

At a Vestry held for St. Peter's parish June 13th, 1724
To Marg't Guilliam for keeping Spurlock, Sam'l Bugg for keeping Edm. Bedford 1450
pages 139 and 140

To Jno. GILLIAM for keep Eliz. Johnson, Rich'd Crump for the work at ye Church, 350

1724/25, Mar 24:
Elizabeth, wife of William GILLIAM died,
page 431

At A Vestry held for St. Peter's p'sh 7br 29th, 1725
page 142
Ordered yt Jno Guilliam be allowed 300 lb of Tob'co pr annum for keeping Henry Dike
To Jno GILLIAM for Keeping Eliz Johnson, Amy Morgan for keeping Jno Goodman, 250 745

1725 7b 29th:
To Jn GILLIAM for Keeping Eliz Johnson. 495.
page 198

1725/26, Feb 12
Margaret Guilliam died
page 431

At a Vestry held for St. Peter's Parish, 7ber ye 29th, 1726
Page 146
To Jno Guiliam for keeping Hen. Dike & for his burial 230; Major Thornton's fees, 200 450
To Sam'l Bugg for Keeping Ed'd Bedford, To be paid to Epa'e Guilliams, Mr. Wm. Waddill his acct., 79 574
To Epa'r Guilliam for making clothes for Bedford, 40; Mr. Geo. Poindexter his acct. 180

1726, Apr 7:
Elizabeth, daughter born to John Guilliam.
page 465

1728, Apr 25: Sarah, daughter born to John and Martha Guilliam.
Baptised May 26, 1728.
page 465

1729/30, March 2:
Richard Son of John & Martha GILLIAM born. Bap Easterday following.
page 466

1734, Feb 20:
Elizabeth Moony dy'd at John Guilliam's.
page 518

1735, Nov 22
William, son born to Richard and Rebecca Guilliam.
Baptised Dec 21, 1735
page 524

1737, Aug 29:
?? of Richard and Rebecca GILLIAM born.
Bap Octob 8.
page 547

1738, Apr 26:
Martha, daughter born to James and Ruth GILLIAM.
Bap June 26, 1738.
page 545

At a Vestry held for St. Peter's Parish September the 28th, 1745
Page 199
1745: To James GILLIAM for keeping an Orphan Child 9 months, 700.
page 286

1768, Jan 20
Eaphroditus, son born to William GILLIAM
page 569
[NB This entry appears again twice on page 573]

---
Sources
Ancestry.com. New Kent County, Virginia St. Peter's Parish Vestry Book and Register, 1684-1786 [database online]. Provo, Utah: MyFamily.com, Inc., 2003.

Chamberlayne, C.G., ed. The Vestry Book and Register of St. Peter's Parish New Kent and James City Counties, Virginia 1684-1786. Richmond, Va.: Library Board, 1937.

National Society of the Colonial Dames of America in the State of Virginia. Parish Register of Saint Peter's, New Kent County, Virginia, 1680-1787. Richmond, VA: Clearfield Co, 1904.

The Vestry and Register of St. Peter's Parish