A Quiet Glory: The Life and Times of Dr. James Skelton Gilliam
Civil War Surgeon, Beloved Country Doctor
of Northumberland and Lancaster Counties, Virginia

By Susan Anthony-Tolbert and Dorian A. Tolbert
Updated November 12, 2011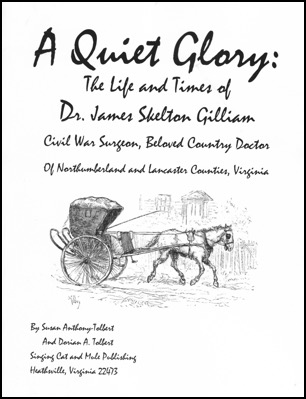 Overview
The family of Dr. James Skelton GILLIAM of Petersburg, the son of Robert GILLIAM and Janet Colquhoun, his wife settled in
Northumberland County
. James married Elizabeth Bates Hudnall and had several children. The family is buried at the GILLIAM Farm on GILLIAMs Road in Heathsville.

---

From the backcover . . .
A Quiet Glory is the biography of a much loved and respected Civil War surgeon and family physIcian. Set in the beautiful agricultural and waterside counties of Northumberland and Lancaster, Virginia, it discusses the intellectual and emotional issues of the times in which Dr. James Skelton Gilliam lived and worked. His life and that of his beloved wife, Eliza Hudnall Bates Gilliam, span a most interesting period in American history from the 1830s until just before the close of that century. Though possess of medical skills and abilities that could have placed him in any company, anywhere, he chose to sere a very quiet glory as a country doctor. And serve hie did: very, very well, indeed!

Publication information:

SInging Cat and Mule Publishing
Heathville, Virginia, 22473
ISBN 978-1-4507-7476-5

http://singingcatandmule.com/fr_home.cfm