GILLIAMs of Spotsylvania County
Updated May 23, 2019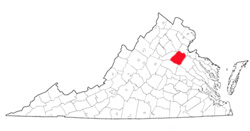 Background
Spotsylvania County was named for Alexander Spotswood, lieutenant governor of Virginia from 1710 to 1722. It was formed from
Essex
, King William, and King and Queen counties in 1720. Its area is 409 square miles, and the county seat is Spotsylvania.

Fredericksburg, in Spotsylvania County, was named for Frederick Louis, Prince of Wales, eldest son of George II. Fredericksburg was established in 1728, was incorporated as a town in 1782, and became a city in 1879.

---
Parishes

Berkeley Parish, 1769
Saint George Parish, 1720
Saint Mark's Parish, 1730-1734

---
Overview
---
Deeds
1 May 1777
Jno. Thomas Gwillim apprentices himself to James Wallace of Fredksbg, Shoe maker.
Wit: Wm Jenkins, Jas (his X mark) Slaven.
Rec: 15 May 1777
Spotsylvania County, VA, Deed Book J, 1774-1782
---
Sources
Crozier, William Armstrong. Spotsylvania County records, 1721-1800; being transcriptions, from the original files at the County Court House, of wills, deeds, administrators' and guardians' bonds, marriage licenses, and lists of revolutionary pensioners. Southern Book Co., 1955, page 330.