Elizabeth GILLIAM Arthur, Widow's Pension Application
Updated March 18, 2016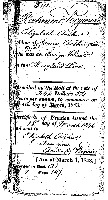 Overview:

Elizabeth GILLIAM, the daughter of John GILLIAM and Jane Henry, the daughter of the Rev. Patrick Henry, married on 25 May 1782 in Prince George County, James Arthur. James and Elizabeth had one child that reached adulthood, Elizabeth GILLIAM Arthur who married Andrew Thorbourne.

The below pension application provides valuable genealogical information on the GILLIAMs of burned Prince George County. (The Pension is listed on the Amelia County page, since Elizabeth spent her years of widowhood in Amelia.
---
#5112
Richmond, Virginia

Elizabeth Arthur
Widow of James Arthur, dec
Who was an Ensign and Lieut
In the Maryland line

Inscribed on the Roll at the rate of
244 dollars 54
cents per annum, to commence on
the 4th day of March, 1843

Certificate of pension issued the
18th day of March 1844
and sent to
Elizabeth Arthur
Namozine
Amelia, Virginia

[Act of March 3, 1843]
Recorded in Book A
1 page 147

---
State of Virginia
Dinwiddie County

At a County Court held in and for said County on the 19th day of August 1840 personally appeared in open Court Mrs. Elizabeth Arthur, a resident of Amelia county, but most convenient to the aforesaid Dinwiddie courthouse aged seventy five years, who being first duly sworn according to law, doth on her oath make the following declaration in order to obtain the benefit of the provision made by the Act of Congress passed July 7th 1838, entitled " Act Granting Half-Pay and Pensions to Certain Widows" that she is the widow of James Arthur who was an officer, a Captain or Lieutenant. She has reason to believe the latter although called Captain during his life that she knows not the time of his entering the Army of the Revolution of the capacity in which he entered the particular corps or regiment, but to the best of her knowledge and belief, it was in the second regiment of the Maryland line commanded by Col. Gundry. She knows not the counties through which he served or the several battles in which he fought, but has always understood that he was at the battle of the Cowpens and at the Battle of Guilford Courthouse, the latter she is most confident of hearing him often times speak of the days that she has not documentary evidence to sustain his rank or services neither does she know when any is to be found. She says that she was married to him on the 25th day of May 1782 (as she at that time understood) about one month after his resignation. Captain William Poythress, a brother officer, who she also understood resigned at the same time, returned with her husband and the said Poythress intermarried with her sister Mary GILLIAM on the same day. They having both parties been engaged previous to the marching of their husbands that they were married in the county of Prince George according to the forms and ceremonies prescribed by the laws of Virginia by Gordon, a duly licensed minister of the Gospel. That her said husband departed this life in the county of Dinwiddie on the 12th day of December 1810 and that she has remained as widow from that day to the present. Sworn to and subscribed in open Court on the day and year first above written.
Sig: Elizabeth Arthur

---
Also at the same time and place, personally appeared Elizabeth G. Torborne, a person which the Court certify to be a witness of credibility who being first duly sworn according to law, says that she was well acquainted with James Arthur, decd, late of the county of Dinwiddie, that she has always understood that he was an officer in the Army of the Revolution and he was called captain at the time of his death, that he departed this life in the year 1810, leaving a widow with whom she wad then personally acquainted and has been from that time to the present and that Elizabeth Arthur who signed the forgoing declaration in her presence is the identical person she knew as the wife of Capt. Arthur during his life and has know from the day of his death to the present time as his widow. She being still a widow, having never married, her said husband's death. Sworn to and subscribed in open Court.
Sig: E. G. Torborne

State of Virginia
Dinwiddie County,
I, John P. Crump. Clerk of the county Court of Dinwiddie in the State of Virginia aforesaid

---
I, Andrew Syme, aged eighty-five years do hereby certify that I was for many years, say from 1794, until the last five years, the pastor or clergyman of the Episcopal Church in this place (Petersburg) that I was well and intimately acquainted from my earliest location here until this day of this oath, with GILLIAM and his wife who were members of the Episcopal Church and both of whom funeral sermons were preached by me, at the time of my first acquaintance with them their daughter Elizabeth Arthur, wife of Capt. James Arthur, an Revolutionary officer resided with her father and mother, as also their daughter, and only surviving child, Elizabeth Arthur, also lived with them and so continued to do until their death. Capt. Arthur the husband I never knew, from some family disagreements they did not live together, yet were not divorced, that I know not when they were married which must have been before I came to the United States. I find from an examination of my own private journal that I solemnized this marriage between Andrew Torborne & Elizabeth Arthur the daughter of the said Capt James Arthur & his wife, Elizabeth Arthur at the home of the said GILLIAM on the 29th day of March 1801 and I also find from the same journal that I preached the funeral sermon of the said GILLIAM father of the said Mrs. Arthur on the 4th day of April 1801 only five days after the marriage of his granddaughter. I believe Mrs. Arthur and her daughter Elizabeth Torborne are both now living or were when I last heard of them and are now widows neither having married a second time. I know not of any records kept by the church of marriage of christenings, other than this private journal were such kept items of the clergyman themselves and believes that there are none such to be found at the church pertaining to this place.
Sig: Andw Syme

The above named Andrew Syme this day personally appeared before me an alderman of the said town and subscribed and made oath to the truth of this foregoing statement given under my hand this the 22nd day of April AD 1840
Sig: Robt B. Bolling, Alderman.


[Rev. Andrew Syme died 26 Oct 1845 at the age of 90. He married Jean Cameron the daughter of Rev. John Cameron. He served as pastor of Blandford Church 1794-1839.]
---
Corporation of Petersburg, to Wit:
Personally appeared before me the subscriber, a Justice of the Peace for the said borough, Benjamin Harrison, who being duly sworn according to Law, says that he is now 73 years of age, that his cousins Mary & Elizabeth GILLIAM were both married as he believes on the same day, the former to Wm Poythress and the latter to James Arthur both of whom were Revolutionary officers, that he reported at present and does not recollect that he was at the wedding, that he lived near them and most probably was there though he does not recollect, but that it was notoriously public that they were both married on the same day in their father's house, of this he feels as confident as he could of anything that he did not see, that the said James and Elizabeth Arthur had but one child who survived & arrived to womanhood that he reported has not knowledge, or recollection at this time or the season at which their marriage took place but that it must have been nearly 60 years ago as he said that their daughter Elizabeth Arthur intermarried with Andrew Torborne probably 40 or more years ago at which marriage he reported was present and took an active part in bringing about such marriage he cannot affix the precise time when Andrew Torborne and Elizabeth Arthur were married but says Mrs. Torborne has at this time a granddaughter 16 or 18 years of age who is that great, grand daughter of the said Elizabeth Arthur, that James Arthur has been decd for many years, probably thirty, also that Andrew Torborne the husband of their daughter has also been decd nearly the same time and that the two widows to wit, Elizabeth Arthur and Elizabeth Torborne reside together in Amelia County in the state of Virginia about 25 miles distant and are now living as widows neither having ever married a second time and further he saith not.

[Benjamin Harrison, is the son of Nathaniel Harrison and Anne GILLIAM. Anne being the sister of John GILLIAM, the father of Elizabeth GILLIAM, who married Capt. James Arthur.]

---
Sources:
Selected Records from Revolutionary War Pension and Bounty-Land-Warrant Application Files. ProQuest Information and Learning Company.