Men of Mark in Virginia: Ideals of American life. A Collection of Biographies and Autobiographies of the Leading Men in the State. Ed. Lyon Gardener Tyler.
Updated March 16, 2020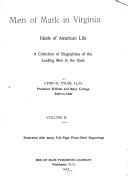 Background:

Men of Mark in Virginia: Ideals of American life. A Collection of Biographies and Autobiographies of the Leading Men in the State edited by Lyon Gardener Tyler was a who's who of Virginia at the time of publication. It gives detailed biographical sketches and many photographs. There is an Index in each volume, with general index in volume 5.

---
Overview:

James Richard GILLIAM, Jr., was the son of James Richard GILLIAM, Sr., and Anne Slaughter Davenport, his wife. James, Sr., was the son of Dr. Glover Davenport GILLIAM and Elizabeth Bolling Jones, his wife. Elizabeth was the daughter of James Saunders Jones and Martha West. Martha was the daughter of Maj. Thomas West and Elizabeth Blair Bolling. Thus the basis for descent from Sir Thomas West.

This line of GILLIAMs should not be confused with another that had West connections. Elizabeth GILLIAM of Albemarle Parish who married John West, Sr., and married secondly, William Bevin and thirdly, Francis Mayberry/Maybury.

---
James Richard GILLIAM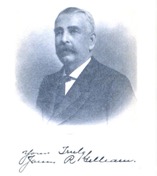 GILLIAM, JAMES RICHARD, financier and man of affairs, was born in Campbell County, Virginia, October 26, 1854. He is descended from Sir Thomas West, one of the colonial governors of Virginia, tracing back to Anne Boleyn. His father was James Richard GILLIAM, whose wife was Annie S. Davenport. The elder GILLIAM was a man of strong devotional temperament, a teacher by profession. He died when the son was quite young.

The son passed his early life in the country, not making his home in the city until he was about twenty-four years old. His
strong physique, his energy and capacity for incessant, exacting labor were without doubt largely promoted by the outdoor requirements of his youth. At the age of six years he went from Campbell to Amherst County. Attendance upon county schools in his boyhood and five months at Kenmore high school constituted his text-book education. Previous to the brief term at Kenmore, and before he was fifteen years old, he qualified as deputy sheriff of Amherst. After leaving the school and then engaging in mercantile business for six months, he was tendered a more responsible place as deputy sheriff, involving duties and responsibilities equal to those of the sheriff and requiring a bond for the faithful performance of the obligations. He won the reputation of being one of the finest county officials in the state. While holding this position he also acquired a half interest in the weekly "Amherst Enterprise," of which he was business manager, Hon. Taylor Berry and Mr. R. A. Coghill being the editors.

Mr. GILLIAM transferred his activities to Lynchburg in 1878. From this point of greater vantage he found scope for exploiting assets of energy, health, brain, and readiness, which his early contact with the realities of life had done so much to cultivate. He has been successful from the beginning to the present.

Mr. GILLIAM married Jessie Belfield Johnson, October 25, 1887, and with their four children, they reside on Lynchburg's old and hallowed Court street. He is a Methodist and a long-time member of the board of stewards of Court Street Methodist church. He is an active Mason, affiliating with Marshall lodge, and being president of the board of managers of the Home and Retreat, a high-class hospital conducted by the lodge.

Mr. GILLIAM on locating in Lynchburg engaged as a partner in the wholesale grocery business and also in that of tobacco commission merchant. Subsequently he organized a wholesale and retail furniture concern, following that with a profitable venture in wholesale boots and shoes. For ten years he applied his energies to this enterprise, at the end of that period selling out to his partners, in order to turn his attention exclusively to developing coal properties and banking interests in which he was concerned. His sagacity has been amply demonstrated in the marvelous development of the coal mines in Southwest Virginia and West Virginia. He took hold a few years ago at a fortunate time, and is now identified with interests there whose dividends stamp the black diamonds of Virginia mountains as a more attractive investment than the gold of the Klondike. Intelligence to see and nerve to act are Mr. GILLIAM's, and he has steadily increased his holdings in this field. He is president of the GILLIAM, the Arlington, the Shawnee, the Glen Alum, and the Lee Coal and Coke companies, whose head offices are in Lynchburg, the mines being mostly in West Virginia. His career in the world of finance has been as conspicuously successful, and he is president of no less than half a dozen banks in Virginia—the National Exchange of Lynchburg, the Lynchburg Trust and Savings company, the First National, of Clifton Forge; the Russell County bank, of Lebanon, Virginia; the Powell's Valley bank, of Jonesville, the Bank of Highland, of Monterey, and a branch of the Lynchburg Trust and Savings company, at Bedford City. He is also president of the Quinn-Marshall company, dry goods, and a special partner in the Lynchburg Shoe company—both of these being among the city's big wholesale houses. At the same time Mr. GILLIAM is chairman of the committee on finance of the upper branch of the city council, and he discharges this unsalaried civic duty with the same application of ability and effort that he bestows upon his personal concerns.

A long list that, and Mr. GILLIAM neglects nothing. All his early and later experience has combined with his strong mental endowment to equip him for his work. The active occupations of his youth, keeping him much in the open air and in touch with men; his early assumption of practical responsibilities; the fact that up to the time he became a bank president he never received a cent of salary, his compensation for his labor thus being what he could realize through his own energy and initiative—these things contributed to the development of a self-reliant, judicious, progressive individuality. The advice he gives as the result of his observation and experience is brief and clear: Be prompt; put thought and mind and time on what you have to do; cultivate the virtue of economy. Physically Mr. GILLIAM is "fit," and horseback riding is his favorite form of recreation. With duties which claim his solicitude in industrial fields, in finance, in commerce, in church, in benevolent order, in municipal affairs, he is an exceedingly busy man, resourceful and effective.

His address is Lynchburg, Virginia.

---
Sources
Men of mark in Virginia. Ideals of American life. A collection of biographies and autobiographies of the leading men in the State. Ed. Lyon Gardener Tyler. Washington, D.C.: Men of Mark Publishing Company, 1906-9. 5 vols.