Samuel Scott Pension
Updated July 3, 2020


Background

Samuel Scott was born 14 Mar 1754, Caroline County to Thomas Scott and Martha Williams. He married Ann Roy on 17 Jun 1784 in Campbell County. In 1786 he purchased from Chiles Terrill of Albemarle, 400 acres on Turkey branch at Henry Tate's corner between lands of Benjamin Rucker and Terrill.

This is where he built his home, on Forest Road, called Locust Thicket. There are a number of legal records that refer to "Major Scott's Plantation on the Forest Road."
As he prospered, Samuel added to his land holdings. By the time of his death in 1822, his main holdings amounted to 1,755 acres. A dispute between Major Scott and Thomas Jefferson over ownership of an adjoining tract, led to a suit filed by Scott in 1810. It was settled in favor of Jefferson. Major Scott was very upset over the decision and carried a grudge to his grave. However, revenge was his when after his death, his daughter and her husband bought all of Jefferson's Popular Forest from Jefferson's grandson, Francis Eppes.
In 1804 he was one of the justices of the peace in Campbell county. That year he patented 114 acres and 54 1/2 acres on Ivy Creek and the south branch of Ivy. The Court ordered the way viewed for a road from the Quaker Meeting House, running by Scott's Mill to the public road leading from Bedford to Lynchburg. In 1807 Edmund Tate petitioned for authority to erect a toll bridge across Blackwater creek on the road from the county line by Samuel Scott's property in Lynchburg.
Major Scott died in 1822 and his will then recorded on August 15, 1832, reserved for a burying-ground forever one acre of land back of his garden, gave his wife one half of the estate except the tract of land lying in Bedford, called the Ivy creek tract, which he devised to his son Samuel, and his mansion house and plantation at Locust Thicket. Samuel and son-in-law Gordon were appointed trustees of the property devised to his daughter, Belinda Roy; he had conveyed 250 acres of land in Bedford on Cheese creek (bounded by the lands of Benj. Wigginton, George Cabell and others), in trust a permanent provision for his daughter Aphire Beverley; to Marian Stanard he gave a lot in Lynchburg adjoining John Lynch and Wm. Radford. To Beverley was devised land lying in Bedford and Campbell, called Blankenship's tract, conveyed to him by deed November 1818. Samuel M. to receive two tracts, Locust Thicket and Ivy creek upon condition that he conveyed to executors in trust the track called Blackwater, hereafter conveyed to him. To his daughter Emily W. Burton, slaves, and a slave for grandson Philip and granddaughter Emily Burton. Executors, J. M. Gordon, Beverley R. and Samuel M. Scott.

---
Overview

Scott's pension mention's corn, etc., purchased from James Gilliam in 1798. Given that Scott was living in Campbell County in 1799, it is likely the James Gilliam of the pension is James Gilliam of Campbell who married Sally McKinney in Campbell in 1800. This James was the son of Charles Gilliam and Elizabeth Patterson.
---
Pension Application of Samuel Scott W5998

State of Virginia. }
Corporation of Lynchburg. } SS.
On this 8 day of November 1838, personally appeared, within the said Corporation, before the undersigned, Henry M. Didlake, a Justice of the peace in and for the said Corporation, Ann Scott, widow, a resident of the said corporation, aged seventy six years, who being first duly sworn according to law, doth upon her oath make the following Declaration, in order to obtain the benefit of the provision made by the act of Congress passed July the 7th 1838, entitled, "An Act granting half pay and pensions to certain widows," viz: That she is the widow of Samuel Scott, dec'd. who was first a Captain and then a Major in the Revolutionary war. That the said Samuel Scott was born and raised in the county of Caroline, in the state of Virginia, had many relations in Prince Edward county in the same state, and when growing up spent much of his time with them. He entered the military service of his country, as she verily believes, immediately upon the breaking out of the revolutionary war, in the southern country, and continued therein until its close. He commenced his services as a Captain; enlisted a company of Dragoons in the county of Prince Edward & the adjacent counties in said state of Virginia, and marched them through North & South Carolina into the state of Georgia, where they were placed on the continental establishment. He continued in active service in the southern department; and about the year 1777, his Lieutenants, Walton at one time and Dickenson at another, enlisted additional recruits for him in the said county of Prince Edward, and marched them to the state of Georgia, where they were placed under his command. These recruits, when they were being enlisted, were well known as the recruits of the said Cap. Samuel Scott who was then in the southern army. As Captain he continued in the Georgia line on Continental establishment, until about the close of the year 1778, or early in the year 1779; and during that period, was wounded in the foot in arresting some deserters, or taking some Tories. For many weeks, as she believes, he was confined at the house of Geo. Walton in Prince Edward county aforesaid by reason of said wound, and, after recovering returned to his duties in Georgia. He was several times, for short periods, from 1775 to 1778, in the state of Virginia, where he had been born and raised. About the year 1777 he went to Philadelphia to attend to some business connected with the pay of the southern troops; in going and returning he passed through the state of Virginia, where he was then known and received as Captain Scott. In the latter part of the year 1778, or early in 1779, the said Samuel Scott resigned his Commission as Captain, but was soon after promoted to the Office of Major, and continued to hold that rank till the close of the war. Whilst a Major, he was once or oftener in the state of Virginia, for short periods; having on one occasion accompanied his brother William, who had been taken prisoner, and who, being in bad health, was discharged on his parol of honor not to serve again during the war, and returned to the county of Caroline in Virginia. The said Ann then resided in the adjoining county of Spotsylvania, was acquainted with said S. Scott, and heard of his said visit to Caroline county at the time; but does not now remember whether she saw him on that occasion. He remained but a short time in Virginia, when he returned to the south where he continued until the close, or about the close of the war. The said Ann has heard the said Samuel Scott speak of numerous battles and skirmishes in which he was engaged, and of many of the officers with whom he served. He was in the battle at Savannah [probably the one on 9 Oct 1779], and perhaps in some engagements in other states than Georgia, but was frequently in serving the country, engaged against the Tories: She has heard him speak of serving with Generals [Benjamin] Lincoln & [Horatio] Gates, Colonels McIntosh, Marbury, [Samuel] Elbert, [John] White & [Archibald] Lytle, and of Generals Green [sic: Nathanael Greene] & [Charles Cotesworth] Pinckney, and his own Lieutenants Dickerson & Walton, and of many others. But from the great lapse of time she is unable to designate all the battles in which he was engaged, or the officers with whom he served. There are many old papers having reference to the said Sam'l. Scott's revolutionary services, found mixed up with many other papers having no reference to such service, all of which are hereto annexed, and designated by the numbers 1. 2. 3. 4. 5. 6. 7. 8. 9. 10. 11. 12. 13. 14. 15. 16. 17. 18. 19. 20. 21. 22. 23. 24. 25. 26.

The paper, or receipt, annexed to the subjoined deposition of John M. Williams, was also found among the papers of said Sam'l. Scott, dec'd., and is, as well as those numbered as aforesaid, believed to be genuine.

The said Ann Scott further saith, that her maiden name was Ann Roy; that she was married to the said Samuel Scott, by the Rev. Mr. Dick at the house of her father John B. Roy, now deceased, in Spotsylvania county, Virginia, on the 13th day of June 1784; that her husband, the said Samuel Scott, died about the 20th day of June 1822 in the neighbourhood of the town of Lynchburg, in the county of Campbell & state of Virginia; that she was not married to him prior to his leaving the military service aforesaid, but said marriage took place previous to the 1st day of January 1794, viz. on the 13th day of June 1784 as above stated; and that by reason of great bodily infirmity she is unable to attend in open Court to make the foregoing declaration. The words "six" "them" "he" "The Rev. Mr. Dick" interlined before signed.


Sig: Ann Scott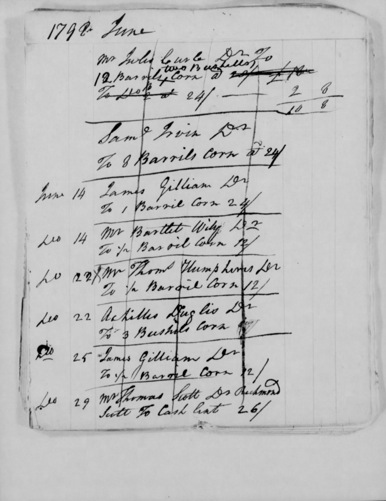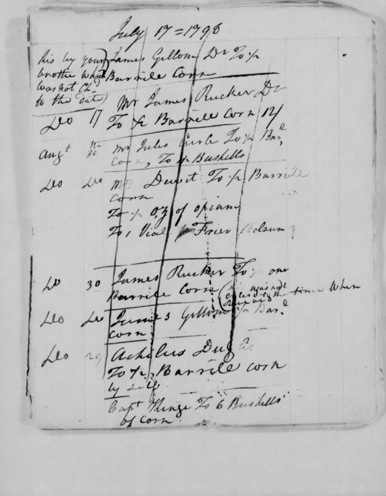 Page 73

1798
June 14 James Gilliam, dr
1 barril corn, 24/

June 25
James Gilliam, dr
1/2 barril corn, 12/


Page 75

17 July 1798
James Gillom, dr
barrile corn 1/2
(this by your brother which was not chd to this date)

Augt 30
James Gilloom
1/2 barl corn

---
Sources
Footnote.com. Revolutionary War Pensions: Samuel Scott.

Harris, C. Leon [transcribed]. Southern Campaign. Revolutionary War Pensions. Samuel Scott.