The GILLIAMs of Illinois
Updated March 29, 2016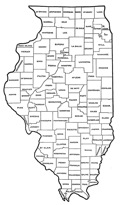 Background
French explorers Jacques Marquette and Louis Jolliet explored the Mississippi and Illinois Rivers in 1673. As a result of their exploration, the Illinois Country was part of the French empire until 1763, when it passed to the British. The area was ceded to the new United States in 1783 and became part of the Northwest Territory.


The Illinois-Wabash Company was an early claimant to much of Illinois. The Illinois Territory was created on February 3, 1809. Illinois saw the construction of numerous civilian forts during the War of 1812, as well as the short-lived Fort Johnson.


On December 3, 1818, Illinois became the 21st state. Early U.S. settlement began in the south part of the state and quickly spread northward, driving out the native residents. In 1832, some Indians returned from Iowa but were driven out in the Black Hawk War, fought by militia.


Chicago gained prominence as a lake and canal port after 1848, and as a rail hub soon afterward. By 1857, Chicago was the state's dominant metropolis.
---
Overview

Some of the earliest Gilliams of Illinois are those of Madison County who had their roots in Augusta County, VA.
---
For information on specific counties:


Madison County, Illinois

Various records
relating to Gilliams that settled in Madison County, IL

---
Sources