GILLIAMs of Kentucky
Updated March 4, 2016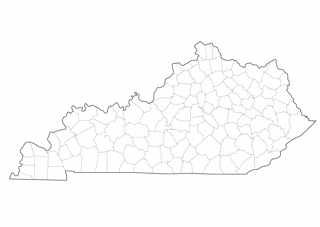 Background
After 1775, Kentucky grew rapidly as the first settlements west of the Appalachian Mountains were founded, with settlers (primarily from Virginia, North Carolina, and Pennsylvania) entering the region via the Cumberland Gap and the Ohio River. The most famous of these early explorers and settlers was Daniel Boone, one of the founders of the state. During this period, the settlers introduced agriculture to the area. Tobacco, corn, and hemp were the major crops of Kentucky, and the hunting stage of frontier life faded away.

Kentucky's second largest city, and former capital Lexington, is named for Lexington, Massachusetts, site of one of the first battles of the Revolution. A fort was built there during the last year of the war for defense against the British and their Native American allies. Kentucky was a battleground during the war; the Battle of Blue Licks, one of the last major battles of the Revolution, was fought in Kentucky. Due to the ongoing violence, by 1776 there were fewer than 200 settlers in Kentucky.

Several factors contributed to the desire of the residents of Kentucky County to separate from Virginia. First, traveling to the state capital was long and dangerous. Second, offensive use of local militia against Indian raids required authorization from the governor of Virginia. Last, Virginia refused to recognize the importance of trade along the Mississippi River to Kentucky's economy. Trade with the Spanish colony of New Orleans, which controlled the mouth of the Mississippi, was forbidden.

The magnitude of these problems increased with the population of Kentucky County, leading Colonel Benjamin Logan to call a constitutional convention in Danville in 1784. Over the next six years, nine more conventions were held. During one, General James Wilkinson proposed secession from both Virginia and the United States to become a ward of Spain, but the idea was defeated. Finally, on June 1, 1792 the United States Congress accepted the Kentucky Constitution and admitted it as the 15th state.
The westernmost part of Kentucky, west of the Tennessee River, was recognized as hunting ground belonging to the Chickasaw by the 1786 Treaty of Hopewell, and remained so until they sold it to the U.S. in 1818.
---
Overview

Some of the earliest settlers of Kentucky included Gilliams of Albemarle County, VA and Buckingham County, VA, by way of Scott County, VA.

---
For information on specific counties:

Barren County, Kentucky

Various records
relating to Gilliams that settled in Barren County, KY

---
Carter County, Kentucky

Various records
relating to Gilliams that settled in Carter County, KY

---
Crittenden County, Kentucky

Various records
relating to Gilliams that settled in Crittenden County, KY

---
Elliott County, Kentucky

Various records
relating to Gilliams that settled in Elliott County, KY

---
Fayette County, Kentucky

Various records
relating to Gilliams that settled in Fayette County, KY

---
Logan County, Kentucky

Various records
relating to Gilliams that settled in Logan County, KY

---
Todd County, Kentucky

Various records
relating to Gilliams that settled in Todd County, KY

---
Trimble County, Kentucky

Various records
relating to Gilliams that settled in Trimble County, KY

---
Topical Records:



Census Records

---
Court Order Land Patents
---
Land Grants

---
Sources