GILLIAMs of Ohio
Updated March 24, 2016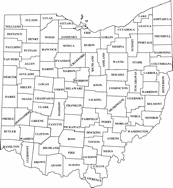 Background
---
Overview
One of the first Gilliams to have a presence in Ohio were the heirs of Lt. John Gilliam of the Continental Line. John receives several
warrants
for his service but dies before the close of the War. John's brother Hinchea Gilliam later appears in Ohio tax lists.


Thomas Gilham of
Loudoun County, VA
who married Mary Triplett, the daughter of Abel Triplett had settled in Belmont County by 1816.

Later arrivals include William Henry Gilham of York County whose son was the prominent Dr. David Tod Gilliam.
---
For information on specific counties:


Belmont County, OH
Various records
relating to Gilliams that settled in Belmont County, OH

---
Sources