Gilliams of Bienville Parish, Louisiana
Updated March 18, 2016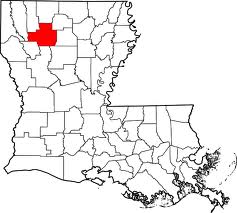 Background
The first permanent settlement in the parish (called Mount Lebanon) was made in 1836 in the northwestern section of the parish by a group of South Carolinians. Many of the pioneers who followed were from the Edgefield District of that state also. Settlers from other areas began arriving almost daily in the late 1840's and in the 1850's.This tide of emigration reached its peak in the late 1850's. An article carried in the New Orleans Daily Crescent on March 13, 1851, about Bienville Parish (formed from the lower part of Claiborne Parish in 1848), noted: This Parish is filling up very fast. There have some sixteen or seventeen hundred persons moved into it within the last twelve months, some one thousand or twelve hundred slaves included.

Provisions of the Act of Congress of the 24th of April, 1820, had officially opened lands in what would later become Bienville Parish, for settlement and purchase. Later in September of 1820 another Act of Congress stated that grants would be made to certain officers and soldiers who had engaged in military service for the United States. The U.S. Government built a "Military Highway" in 1827-28 through the wilderness from Fort Jessup, South of Natchitoches, to points in Arkansas and on to Fort Towson in Oklahoma. This road went through Natchitoches (established over 100 years earlier), Grand Encore, Campti and Fairview Alpha. Although this area was inhabited by the Caddo Indians, a treaty was signed by President Jackson with the Caddo Indians in 1836. Thus, by the 1840's, with lands available, an established travel route through Natchitoches and what would later become Bienville Parish, and a treaty with the Indians, potential settlers must have found the area attractive.

---
Overview
One of these first Gilliam families to settle Louisiana was the family of Miles Gilliam the grandson of Burrell Gilliam and Anne Johnson of Albemarle Parish, Surry County, VA. Miles by way of Georgia eventually settled in Bienville Parish, Louisiana.

Miles and his son William Gilliam began to patent land in 1851 and 1852 in Bienville Parish.

---
Census
1850
Miles Gillam
Age: 65
Birth Year: abt 1785
Birthplace: North Carolina
Home in 1850: Western District, Bienville, Louisiana
Gender: Male
Family Number: 458
Miles Gillam, age 65
William Gillam, age 41
Thomas Gillam, age 39
Frances Gillam, age 29
Margaret Gillam, age 22

1860
Jackson Parish Louisiana census
Robert E. Russ, age 30
Mary Russ, age 22
Eug
enia Russ, age 3
Thomas E. Russ, age 1
Sarah Smith, age
72
Miles Gillium, age 77

[Robert E. Russ was the founder of Ruston. Sarah Gilliam, the daughter of William and sister of Miles married secondly Robert E. Russ.]


1870
Miles Gilliam

Age in 1870: 86
Birth Year: abt 1784
Birthplace: South Carolina
Home in 1870: Ward 1, Bienville, Louisiana
Race: White
Gender: Male
Post Office: Arcadia
Robt [Rebecca] Kemp, age 53
Elyssian Kemp, age 24
George Kemp, age 23
Benj F. Kemp, age 20
Francis Kemp, age 18
Rebecca Kemp, age 15
Joseph Kemp, age 12
Miles Gilliam, age 86

["Robert" Kemp listed above is clearly Rebecca Kemp, daughter of Miles. She is found in the 1880 Census with son Benjamin, etc. In the 1870 census record "Female" is clearly struck through and "Male" is written above it.]

---
Land Records
4 Dec 1849
"Be it remembered . . . 4 Dec 1849 . . . appeared Thomas P. Gilliam, Mary N. Gilliam, Frances S. Gilliam, Sarah H. Gilliam, and Margarett Gilliam, residents of Bienville Parish, LA, who declared . . . appoint William B. Gilliam of said Parish their true and lawful Attorney for them and in their name and for their use to ask . . .

Bienville Parish, LA, Conveyance Book. A, pg 144

Miles Gilliam to Thomas P. Gilliam the NE ¼ of NE ¼ Sec. 14 T16 R6 and the SE ¼ of SE ¼ of Sec. 11 T16 R6

Bienville Parish, LA, Conveyance Book. A, pg 352


1849-1850

Township 16, Range 6, west, was entered in [18]35 by Joseph Galbreath and Joseph Taylor, and 1836 by James Walker, Theodore 0. Stark, William A. Drake and St. John R. Liddell. In 1849-50 William Elliott, William D. Robinson, Thereba J. Ragsdale, William Holder, James C. and Benjamin Baker, Miles Gilliam, Ben Pierce, Robert Henderson, Jr., and Richard
Boyd made their purchases. From 1836 to 1849 William Coulter Price is the only recorded purchaser of United States lands here.

Biographical and Historical Memoirs of Northwest Louisiana, The Southern Publishing Company, Chicago & Nashville, 1890

---
Marriages
28 Jul 1850
Allen Holland married Frances S. GILLIAM

1 Sep 1850
Thomas Lakey married Mary GILLIAM

---
Mortality Schedule
1850 Mortality Schedule, Bienville Parish
Sarah H. GILLAM, age 21, born GA
Apr pneumonia 14 d

---
Patents
Name

Date

Document Number

Township-Range

Aliquots

Section Number

County

Gilliam, Miles

1 Oct 1852

7397

016N-006W

SE¼SE¼

11

Bienville

Gilliam, Miles

1 Oct 1852

7398

016N-006W

NE¼NE¼

14

Bienville

Gilliam, William B,
Gilliam, William B

1 Sep 1851

15445

016N-006W

SW¼

12

Bienville

Gilliam, William B

1 Oct 1852

7962

016N-006W

NE¼NW¼

28

Bienville

Morrison, Charles H,
Gilliam, Miles

15 Jun 1860

62689

023N-005E

E½NE¼

22

Morehouse

Morrison, Charles H,
Gilliam, Miles

15 Jun 1860

62689

023N-005E

N½NW¼

23

Morehouse

Bureau of Land Management

[The Patents in Morehouse County are actually Military Warrants. Charles H. Morrison was Miles' assignee.]

---
Sources
Ancestry.com. Census records.

Bienville Parish, LA, Conveyance Book

Biographical and Historical Memoirs of Northwest Louisiana, The Southern Publishing Company, Chicago & Nashville, 1890

Bureau of Land Management