GILLIAMs of Jefferson County, GA
Updated March 30, 2016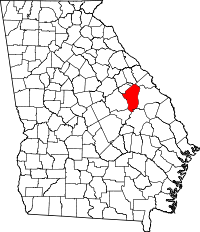 Background

Jefferson County, in east central Georgia southwest of Augusta, was established in 1796 as the state's twenty-third county on land formerly a part of Burke and Warren counties. It was named after U.S. president Thomas Jefferson, author of the Declaration of Independence and the first U.S. secretary of state.


Louisville, the county seat, was the third capital of Georgia. Unlike its predecessors, Savannah and Augusta, it was founded specifically as the permanent state capital, with the first planned capitol building, which was completed in 1796. In recognition of French support during the Revolutionary War (1775-83), Georgia legislators named the town for Louis XVI, king of France (who had been executed three years earlier). The original design of Louisville was based on the squares of Philadelphia, Pennsylvania. During the Jefferson County Courthouse period when Louisville was the state capital (1796-1806), the papers connected with the Yazoo land fraud were publicly burned and the Great Seal of Georgia was adopted (1799). According to the 1820 census, the population of Jefferson County then included 3,932 free whites and 3,094 slaves. In 1807 Georgia government moved to its fourth capital, farther west in Baldwin County.


Jefferson County was one of the unfortunate counties that lay in the wake of Sherman's army. All deeds were burned at that time, and may valuable books in the office of the Ordinary; however, most of the original wills were saved, and are now preserved in tin files, alphabetically arranged, as are also all marriage licenses, administrators' returns, etc.
---
Marriages
22 Sep 1808
Miles Gilliam and Mary Pebbles

10 Jan 1809
Frances Gilliam and William S. Shurley

9 Jul 1809
Rebecca Gilliam and George W. Wheeler

18 Jul 1811
Sarah Gilliam and Elias Jr. Hodges

---
Taxes
Tax List of 1799
William Gillam
Tarver District, Jefferson County

Jeffery, Alice. Georgia Tax Index, 1789-1799 [database on-line]. Provo, UT, USA: The Generations Network, Inc., 1998.

Tax List of 1802

William Gillam
---

Wills


16 March 1802

Will of Samuel Andrews

Wife Jenny;
mother Jane;
daughter Peggy; daughter Nancy; daughter Jenny;
son John;
nephew Samuel Grant;
nephew Samuel Gillam;
Executors: William Andrews, Hugh Irwin
Wit: Elijah Gibson, Charles Robinson, Elizabeth Hodges
Rec: 5 July 1802

16 Mar 1802

Will of Samuel Andrews

March 16,1802, July 5,1802, p. 34

Wife: Jenny Andrew, two negro slaves.
Dau: Peggy Andrew my woman, Alm.
Son: Samuel
Lamont Andrew my boy Bob and woman slave and my mare, filly and a bed and furniture to son Samuel Lamont Andrew my boy Bob and woman slave Nanoe and tract of land I now live on and my mare and her colt and bed, etc., one full one half of my smith tools and my farming utencils

To dau. Nancy my negro boy Davy and a bed and furn, and young mare
To dau. Jenny one negro boy Saron, a bed and furniture
and it is understood my son Samuel is to give his sister Jenny a mere out of his brood

Son: John Andrew negro boy and woman, etc. 125 acres adj. Isaac Rawls in this county and 100 acres adj. Matthew McMillan in 96th Dist., S. C.
Exrs. to see that my Mother Jane Andrew be provided with decent and comfortable support during her life at proper charge of my estate Nephew Samuel Andrew $30..to pay for his education
Nephews: Samuel Grant and Samuel Gillam.
Exrs: William Andrew and Hugh Irwin.
Wits: Elijah Gibson, James Robinson, Elizabeth Hodges.
James Bozeman, C. C. O. 5 July 1802,
Elizabeth Hodges swore to signature of will in Open Court.

Rec: 5 Jul 1802

Jefferson County, GA, Will Book ____, page 34.


5 Nov 1821

Will of Elias Hodges
wife Sarah . . . to purchase a piece of land in Alabama sufficient to raise and support for her and the children
son Elias
bros Richard
George C. to be executors
Indebted to Mr. Cowart.
Exrs: Richard Hodges, George C. Hodges, Sarah Hodges
Wit: Moses Sinquefield, Rebecca Wheeler, John Fleming JP

Jefferson County, GA, Will Book A
[Elias Hodges married Sarah Gilliam, the daughter of William Gilliam, the son of Burrell Gilliam and Nancy Johnson of Albemarle Parish, Surry County, VA]
---
Sources