Henry Gilliam of the USS Constitution
Updated March 13, 2016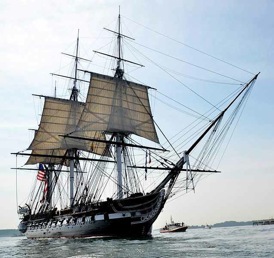 Background
USS Constitution is a wooden-hulled, three-masted heavy frigate of the United States Navy. Named by President George Washington after the Constitution of the United States of America, she is the world's oldest commissioned naval vessel afloat.[Note 1] Launched in 1797, Constitution was one of six original frigates authorized for construction by the Naval Act of 1794 and the third constructed. Joshua Humphreys designed the frigates to be the young Navy's capital ships, and so Constitution and her sisters were larger and more heavily armed and built than standard frigates of the period. Built in Boston, Massachusetts, at Edmund Hartt's shipyard, her first duties with the newly formed United States Navy were to provide protection for American merchant shipping during the Quasi-War with France and to defeat the Barbary pirates in the First Barbary War.

Constitution is most famous for her actions during the War of 1812 against Great Britain, when she captured numerous merchant ships and defeated five British warships: HMS Guerriere, Java, Pictou, Cyane and Levant. The battle with Guerriere earned her the nickname of "Old Ironsides" and public adoration that has repeatedly saved her from scrapping. She continued to actively serve the nation as flagship in the Mediterranean and African squadrons, and circled the world in the 1840s. During the American Civil War she served as a training ship for the United States Naval Academy and carried artwork and industrial displays to the Paris Exposition of 1878. Retired from active service in 1881, she served as a receiving ship until designated a museum ship in 1907 and in 1934 she completed a three-year, 90-port tour of the nation. Constitution sailed under her own power for her 200th birthday in 1997, and again in August 2012, to commemorate the 200th anniversary of her victory over Guerriere.

Constitution's stated mission today is to promote understanding of the Navy's role in war and peace through educational outreach, historic demonstration, and active participation in public events. As a fully commissioned US Navy ship, her crew of 60 officers and sailors participate in ceremonies, educational programs, and special events while keeping the ship open to visitors year round and providing free tours. The officers and crew are all active-duty US Navy personnel and the assignment is considered special duty in the Navy. Traditionally, command of the vessel is assigned to a Navy Commander. She is berthed at Pier 1 of the former Charlestown Navy Yard, at one end of Boston's Freedom Trail.

---
Overview

Lt. Henry Gilliam, the son of Peter Gilliam and Mary Jones served on the USS Constitution.

A group of letters between Henry Gilliam and his uncle, William Jones, were published in The Georgia Historical Quarterly, XXXIII, 46-66 (March 1954) as "Letters of Henry Gilliam, 1809-1817" edited by Lilla M. Hawes. The letters may be found in the William Jones papers, MS 448, Georgia Historical Society, Savannah, Georgia.

---

The following was taken from the USS Constitution Museum website which may be found at
www.ussconstitutionmuseum.org
Henry Gilliam
Before Joining USS Constitution

Early Life
Henry Gilliam was born around 1790 in Georgia, to parents Peter and Mary Gilliam of Lincoln County.

Early Experience
While we don't know the details of Gilliam's upbringing, his family was well off, and judging from the quality of letters written to his uncle, he enjoyed a comprehensive education. Congressman William W. Bibb and Senator John Milledge of Georgia used their influence to secure a midshipman's warrant for Gilliam in 1809. Prior to his transfer to Constitution, Gilliam served aboard USS President.

Life Aboard USS Constitution
Midshipman Gilliam, age 22, joined Constitution in the middle of June, 1810, while the ship lay at Hampton Roads, Virginia.

Life Onboard
In addition to other duties, which could vary from standing watch to co-commanding a division in battle, midshipmen were required to keep journals of each voyage. Gilliam may have drawn on his journals for the series of letters he wrote to his uncle William Jones during his service aboard President and Constitution. While the letters paint dramatic pictures of political debates and the horrors of war, they also contain pleas for money (he made only $19 per month) and other assistance from home.

Battles and Engagements
Gilliam was on board for what is called the "Great Chase" of July 16 to 19, 1812 , and vividly described it to his uncle:
"You have no doubt heard of the Frigate's [Constitution] been chased off New York by the English Squadron, and the truly able manner with which she was manoeuvred for seventy hours; all hands were kept a Quarters, expecting every moment to have an Englishman along side of us, but by superior sailing and seamanship, we escaped a conflict, pregnant with the most fatal consequences to our gallant ship."
Gilliam also saw action in the battles against HMS Guerriere, on August 19, 1812 and HMS Java on December 29, 1812.

Of the former he said,
"We plied him [the Guerriere] so warmly that in the space of five minutes his mizzen mast was shot away, upon which we gave him three chears [sic]. She then attempted to get under our stern for the purpose of raking us, but in this he was compleatly [sic] foiled, for we returned him the complement which he intended for us, with great success. . . [After the Guerriere's defeated captain came on board] . . . He told our Captn. that we were a set of Tigers, for we had killed and wounded about one hundred of his men. Our loss as seven killed & seven wounded . . . "

After Constitution
Gilliam was transferred from Constitution to the sloop of war Frolic in October 1813, where he served as an acting lieutenant. In 1815, having received his lieutenant's commission, he moved on to the brig Flambeau. Gilliam requested an extended leave to attend to his deceased father's estate, and did not return to service until six years later in 1822. He reported for duty with the West India Squadron in 1823 but died on Thompson's Island (now Key West) on September 5, 1823.

---
Sources