Kentucky Court Order Land Patents

Updated March 4, 2016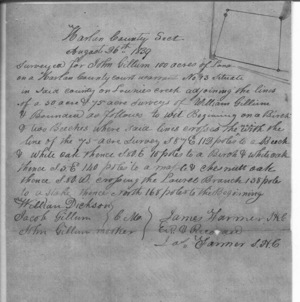 Background
I
n 1835, the Kentucky General Assembly modified the system for patenting unappropriated land in the Commonwealth. Prospective landowners purchased orders, also called "Warrants", from the county court authorizing the county surveyor to survey a tract of unappropriated land for a patent application. The total acreage could not exceed the amount specified in each warrant; the land had to be located within the county issuing the warrant. More than one warrant could be used for each survey. The survey and a copy of the authorizing order(s) were then sent to the Register of the Land Office in Frankfort. Upon approval by the Land Register and, in some instances, the Attorney General, the Governor signed the grant finalizing the patent. Since 1835 to the present date, there have been over 70,000 Kentucky land patents issued under the County Court Order Series. The process for patenting land is defined in Chapter 56 of the Kentucky Revised Statutes.
Copies of Grants may be ordered from the Secretary of State's Land Office, the Kentucky History Center Library, and the Department for Libraries & Archives, all in Frankfort, Kentucky. Contact the Kentucky Secretary of State's Office for copies of Warrants and Surveys filed with the County Court Order Series.

---
Overview

Many of the Gilliams who received Court Order Land Patents came from central Virginia (Albemarle and Buckingham Counties) by way of Scott County, VA.

---
Land Patents Sorted by Date
| | | | | | | | | | |
| --- | --- | --- | --- | --- | --- | --- | --- | --- | --- |
| Grant Date | Grantee | Acres | County | Watercourse | Survey Name | Survey Date | Patent Number | Grant Book | Warrent |
| 26 Aug 1839 | Gillum, John | 100 | Harlan | Looney Cr. | Gillum, John | 18 Jul 1843 | 04649 | 10, page 255 | Warrant #1: 13 |
| 3 Dec 1842 | Gilliam, John S. | 50 | Crittenden | Crooked Cr. | Gilliam, John S. | 27 Aug 1843 | 04758 | 10, page 365 | Warrant #1: 4 |
| 3 Apr 1843 | Gilliam, Jacob &c. | 400 | Harlan | Looney Cr. Poor Fk. | Dixon, John | 2 Jul 1845 | 06229 | 13, page 249 | Warrant #1: 145 |
| 15 Dec 1844 | Gilliam, Jacob | 50 | Harlan | Looney Cr. Poor Fk. | Farmer, Lewis | 2 Jul 1845 | 06236 | 13, page 256 | Warrant #1: 258 |
| 18 Dec 1844 | Gilliam, John | 100 | Harlan | Laurel Br. Looney Cr. Poor Fk. | Gilliam, John | 2 Jul 1845 | 06237 | 13, page 257 | Warrant #1: 263, #2: 234 |
| 27 Jan 1845 | Gilliam, John S. | 962 | Crittenden | Hoods Cr. | Gilliam, John S. | 5 Aug 1845 | 06841 | 14, page 422 | Warrant #1: 40 |
| 7 Mar 1844 | Gillem, Chester | 120 | Carter | Brushy Fk. | Gillem, Chester | 5 Oct 1847 | 10768 | 22, page 55 | |
| 30 Dec 1846 | Gilliam, John | 50 | Harlan | Looney Cr. Poor Fk. | Gilliam, John | 19 Jul 1848 | 11932 | 24, page 93 | |
| 17 Aug 1849 | Gillem, John | 300 | Perry | Laurel Fk. Maces Cr. N. Fk. Kentucky R. | Gillem, John | 1 Jul 1850 | 15004 | 29, page 441 | |
| 23 Jan 1850 | Gillum, Amos | 7 1/2 | Christian | Tradewater R. | Gillum, Amos | 10 Dec 1850 | 16313 | 32, page 62 | |
| 8 Mar 1850 | Gillum, Milton W. | 7 | Todd | W. Fk. Red R. | Burrus, Nathaniel | 6 Oct 1852 | 20342 | 37, page 296 | |
| 30 Apr 1851 | Gilliam, John & Gilliam, Jesse | 200 | Harlan | Clover Lick Cr. Poor Fk. | Gilliam, John & Gilliam, Jesse | 18 Oct 1852 | 20397 | 37, page 351 | |
| 13 Dec 1850 | Gillum, John | 200 | Perry | Big Cr. Hixes Br. | Gillum, John | 15 Apr 1856 | 25034 | 44, page 586 | |
| 25 Jul 1856 | Gilliam, Peter | 50 | Lawrence | Big Blain Cr. Road Fk. | Gilliam, Peter | 24 Jun 1857 | 27620 | 49, page 141 | |
| 13 Jun 1857 | Gillum, Archibald | 74 | Carter | Sugar Camp Br. Tygarts Cr. | Gillum, Archable | 7 Nov 1857 | 28412 | 50, page 458 | |
| 11 May 1858 | Gillum, Chesly | 100 | Carter | Little Fk. Sandy R. | Gillum, Chesly | 8 Nov 1858 | 29752 | 53, page 338 | |
| 20 Apr 1858 | Gillum, John S. | 42 | Crittenden | Piney Cr. | Gillum, John S. | 28 Apr 1859 | 30045 | 54, page 57 | |
| 1 Jan 1858 | Dixon, William & Gilliam, Jacob | 200 | Harlan | Benham Spur Lunies Cr. Cumberland R. | Dixon, William & Gilliam, Jacob | 19 Jul 1859 | 30592 | 55, page 132 | |
| 1 Jan 1858 | Dixon, William & Gilliam, Jacob | 50 | Harlan | Clover Lick Cr. Lunes Cr. Cumberland R. | Gilliam, John | 7 Oct 1859 | 31046 | 56, page 45 | |
| 2 Mar 1858 | Gillum, Anderson | 78 | Knox | Rye Cove Br. Tuggle Br. Big Richland Cr. | Gillum, Anderson | 23 Nov 1859 | 31353 | 56, page 351 | |
| 2 Mar 1859 | Gillum, Anderson | 25 | Knox | Tuggle Br. Richland Cr. | Gillum, Anderson | 23 Nov 1859 | 31359 | 56, page 357 | |
| 21 Jun 1859 | Gillum, James | 326 | Carter | Rocky Br. Newcomb Fk. | Gillum, James | 21 Mar 1860 | 31681 | 57, page 169 | |
| 1 Dec 1857 | Gillum, John | 100 | Pike | Elkhorn Cr. | Gillum, John | 12 Apr 1860 | 31960 | 57, page 447 | |
| 15 Jun 1860 | Gillum, Pleasant | 45 | Carter | Rocky Br. Newcomb Fk. Little Sandy R. | Gillum, Pleasant | 17 May 1861 | 34054 | 61, page 224 | |
| 15 Jun 1860 | Gillum, Charity | 400 | Carter | Rocky Br. Newcomb Fk. Little Sandy R. | Gillum, Charity | 17 May 1861 | 34055 | 61, page 225 | |
| 23 Mar 1861 | Gillom, Izaah | 100 | Morgan | R. Fk. Newcomb Cr. | Gillom, Iza. | 26 Dec 1861 | 34681 | 62, page 369 | |
| 21 Sep 1861 | Gillom, John | 100 | Morgan | Little Sandy R. | Gillom, John | 21 Aug 1862 | 34931 | 63, page 132 | |
| 2 Sep 1861 | Gillom, Charley | 50 | Morgan | Little Sandy R. | Gillom, Charley | 21 Aug 1862 | 34932 | 63, page 133 | |
| 2 Feb 1865 | Gilliam, Peter | 80 | Lawrence | Big Blain Cr. | Gilliam, Peter | 12 Jul 1865 | 36072 | 65, page 283 | |
| 2 Feb 1865 | Gilliam, Peter | 37 | Lawrence | Blaine Cr. | Gilliam, Peter | 12 Jul 1865 | 36073 | 65, page 284 | |
| 21 Dec 1865 | Gillum, Isaiah | 112 | Morgan | Little Sandy R. | Gillom, Isaiah | 3 Sep 1866 | 38031 | 69, page 100 | |
| 20 Dec 1865 | Gillom, Isaiah | 111 | Morgan | Little Sandy R. | Gillom, Isaiah | 3 Sep 1866 | 38032 | 69, page 101 | |
| 27 Dec 1867 | Gillum, Chesley | 8 1/2 | Carter | Little Fk. Little Sandy R. | Gillum, Chesley | 30 Apr 1868 | 40940 | 72, page 449 | |
| 27 Dec 1867 | Gillum, John | 29 | Carter | None | Gillum, John | 30 Apr 1868 | 40941 | 72, page 450 | |
| 23 Jul 1869 | Gillum, Charles | 50 | Elliott | Briar Fk. Little Sandy R. | Gillum, Charles | 23 Jun 1870 | 43032 | 76, page 375 | |
| 11 Jan 1870 | Gilliam, John | 150 | Harlan | Looney Cr. Cumberland R. | Gilliam, John | 28 Apr 1871 | 45232 | 80, page 382 | |
| 1 May 1870 | Gillum, William | 100 | Elliott | Briar Fk. Little Sandy R. | Gillum, Wm. | 3 Jul 1872 | 47831 | 88, page 531 | |
| 19 May 1876 | Gillam, J. G. | 130 | Morgan | Lower Sand Lick Fk. Open Fk. Paint Cr. | Gillam, J. G. | 12 Mar 1877 | 53254 | 96, page 499 | |
| 7 May 1877 | Gillum, Cornelius C. | 150 | Knox | Bowman Br. Richland Cr. | Gillum, Cornelious C. | 4 Oct 1877 | 53451 | 97, page 138 | |
| 22 Mar 1872 | Gillum, William | 98 | Elliott | Brice Fk. Little Sandy R. | Gillum, William | 13 May 1879 | 54128 | 98, page 260 | |
| 30 Aug 1879 | Gillum, James M. | 200 | Logan | None | Gillum, James M. | 31 Aug 1880 | 54630 | 99, page 222 | |
| 7 Nov 1879 | Gillam, James L. | 3 | Todd | Clifty Cr. | Shemwell, W. G. | 17 Sep 1881 | 55186 | 100, page 236 | |
| 20 Mar 1880 | Gilliam, L. E. | 40 | Todd | Clifty Cr. | Gilliam, L. E. | 17 Sep 1881 | 55187 | 100, page 237 | |
| 21 Sep 1881 | Gillum, Isaiah | 50 | Elliott | Newcombe Fk. Little Sandy R. | Gillum, Isaiah | 17 May 1882 | 55900 | 101, page 408 | |
| 19 Jan 1882 | Gillom, Martin | 50 | Harlan | Looney Cr. Clover Lick Cr. | Gillom, Martin | 20 Mar 1883 | 57511 | 104, page 283 | |
| 26 Jan 1882 | Gillom, Dixon | 50 | Harlan | Clover Lick Cr. | Gillom, Dixon | 20 Mar 1883 | 57516 | 104, page 288 | |
| 8 Feb 1882 | Gillom, William | 15 | Harlan | Looney Cr. Poor Fk. | Gillom, William | 20 Mar 1883 | 57521 | 104, page 293 | |
| 2 Aug 1881 | Gillum, C. C. | 100 | Knox | Richland Cr. | Gillum, C. C. | 14 May 1883 | 57693 | 104, page 465 | |
| 12 Oct 1882 | Gillum, Dixon | 50 | Harlan | Looney Cr. Poor Fk. Cumberland R. | Gilliam, Dixon | 16 May 1883 | 57709 | 104, page 481 | |
| 6 Apr 1880 | Gillum, D. L. | 25 | Pike | Road Fk. Stone Cole Cr. | Dils, John Jr. | 21 Jun 1883 | 57835 | 105, page 63 | |
| 27 Nov 1882 | Gillam, Mark | 15 | Pike | Stone Coal Cr. | Gillam, Mark | 26 Jul 1883 | 58086 | 105, page 314 | |
| 26 Apr 1888 | Gillam, Peter & Smith, Sarah | 89 | Morgan | Meadow Br. Elk Fk. Licking R. | Gillam, Peter & Smith, Sarah | 12 Mar 1890 | 62722 | 112, page 464 | |
| 25 Apr 1888 | Gillam, Hiram | 39 3/4 | Morgan | Elk Fk. Licking R. | Gillam, Hiram | 12 Mar 1890 | 62723 | 112, page 465 | |
| 20 Nov 1889 | Gillom, Wm. | 49 | Elliott | Briar Fk. Little Sandy R. | Gillom, Wm. | 14 Jul 1890 | 63009 | 113, page 193 | |
| | Gillom, John & Wells, Lewis | 20 | Elliott | Penningtons Fk. Little Fk. Little Sandy R. | Gillom, John & Wells, Lewis | 1 Dec 1890 | 63799 | 114, page 424 | |
| 24 Feb 1891 | Gilliam, Martin | 50 | Harlan | Bull Cave Br. Razor Fk. Clover Fk. Cumberland R. | Gilliam, Martin | 10 Oct 1891 | 64472 | 115, page 539 | |
| 1 Oct 1894 | Gillum, Wm. | 20 | Elliott | Newcombe Fk. | Gillam, Wm. | 28 Jan 1895 | 65622 | 118, page 24 | |
| 2 Sep 1902 | Gilliam, Dixon C. | 45 | Harlan | Benoms Spur | Gilliam, Jacob | 2 Feb 1903 | 66732 | 120, page 29 | Warrant #6: 0 |
| 1 Sep 1902 | Gilliam, J. C. | 30 | Harlan | Benoms Spur | Gilliam, Jacob C. | 2 Feb 1903 | 66733 | 120, page 30 | Warrant #6: 0 |
| 16 Nov 1903 | Gilliam, Jessie | 50 | Morgan | Lower Sand Lick Open Fk. Paint Cr. Big Sandy | Gillam, Jessey | 09/01/1905 | 67709 | 121, page 451 | Warrant #6: 0 |
| 9 Mar 1911 | Gilliam, W. C. | 1 20/100 | Harlan | Looney Cr. Poor Fk. Cumberland R. | Gilliam, W. C. | 08/02/1911 | 68720 | 123, page 477 | Warrant #6: 0 |
| 12 Aug 1920 | Gillum, Jno. C. | 2 1/20 | Johnson | Keatons Fk. Big Blaine Cr. | Gillum, John C. | 11/26/1920 | 69481 | 125, page 301 | |
Land Patents Sorted by County
| | | | | | | | | | |
| --- | --- | --- | --- | --- | --- | --- | --- | --- | --- |
| Grant Date | Grantee | Acres | County | Watercourse | Survey Name | Survey Date | Patent Number | Grant Book | Warrent |
| 15 Jun 1860 | Gillum, Pleasant | 45 | Carter | Rocky Br. Newcomb Fk. Little Sandy R. | Gillum, Pleasant | 17 May 1861 | 34054 | 61, page 224 | |
| 11 May 1858 | Gillum, Chesly | 100 | Carter | Little Fk. Sandy R. | Gillum, Chesly | 8 Nov 1858 | 29752 | 53, page 338 | |
| 13 Jun 1857 | Gillum, Archibald | 74 | Carter | Sugar Camp Br. Tygarts Cr. | Gillum, Archable | 7 Nov 1857 | 28412 | 50, page 458 | |
| 15 Jun 1860 | Gillum, Charity | 400 | Carter | Rocky Br. Newcomb Fk. Little Sandy R. | Gillum, Charity | 17 May 1861 | 34055 | 61, page 225 | |
| 21 Jun 1859 | Gillum, James | 326 | Carter | Rocky Br. Newcomb Fk. | Gillum, James | 21 Mar 1860 | 31681 | 57, page 169 | |
| 27 Dec 1867 | Gillum, Chesley | 8 1/2 | Carter | Little Fk. Little Sandy R. | Gillum, Chesley | 30 Apr 1868 | 40940 | 72, page 449 | |
| 27 Dec 1867 | Gillum, John | 29 | Carter | None | Gillum, John | 30 Apr 1868 | 40941 | 72, page 450 | |
| 7 Mar 1844 | Gillem, Chester | 120 | Carter | Brushy Fk. | Gillem, Chester | 5 Oct 1847 | 10768 | 22, page 55 | |
| 23 Jan 1850 | Gillum, Amos | 7 1/2 | Christian | Tradewater R. | Gillum, Amos | 10 Dec 1850 | 16313 | 32, page 62 | |
| 20 Apr 1858 | Gillum, John S. | 42 | Crittenden | Piney Cr. | Gillum, John S. | 28 Apr 1859 | 30045 | 54, page 57 | |
| 27 Jan 1845 | Gilliam, John S. | 962 | Crittenden | Hoods Cr. | Gilliam, John S. | 5 Aug 1845 | 06841 | 14, page 422 | Warrant #1: 40 |
| 3 Dec 1842 | Gilliam, John S. | 50 | Crittenden | Crooked Cr. | Gilliam, John S. | 27 Aug 1843 | 04758 | 10, page 365 | Warrant #1: 4 |
| | Gillom, John & Wells, Lewis | 20 | Elliott | Penningtons Fk. Little Fk. Little Sandy R. | Gillom, John & Wells, Lewis | 1 Dec 1890 | 63799 | 114, page 424 | |
| 1 May 1870 | Gillum, William | 100 | Elliott | Briar Fk. Little Sandy R. | Gillum, Wm. | 3 Jul 1872 | 47831 | 88, page 531 | |
| 1 Oct 1894 | Gillum, Wm. | 20 | Elliott | Newcombe Fk. | Gillam, Wm. | 28 Jan 1895 | 65622 | 118, page 24 | |
| 20 Nov 1889 | Gillom, Wm. | 49 | Elliott | Briar Fk. Little Sandy R. | Gillom, Wm. | 14 Jul 1890 | 63009 | 113, page 193 | |
| 21 Sep 1881 | Gillum, Isaiah | 50 | Elliott | Newcombe Fk. Little Sandy R. | Gillum, Isaiah | 17 May 1882 | 55900 | 101, page 408 | |
| 22 Mar 1872 | Gillum, William | 98 | Elliott | Brice Fk. Little Sandy R. | Gillum, William | 13 May 1879 | 54128 | 98, page 260 | |
| 23 Jul 1869 | Gillum, Charles | 50 | Elliott | Briar Fk. Little Sandy R. | Gillum, Charles | 23 Jun 1870 | 43032 | 76, page 375 | |
| 1 Jan 1858 | Dixon, William & Gilliam, Jacob | 200 | Harlan | Benham Spur Lunies Cr. Cumberland R. | Dixon, William & Gilliam, Jacob | 19 Jul 1859 | 30592 | 55, page 132 | |
| 1 Jan 1858 | Dixon, William & Gilliam, Jacob | 50 | Harlan | Clover Lick Cr. Lunes Cr. Cumberland R. | Gilliam, John | 7 Oct 1859 | 31046 | 56, page 45 | |
| 1 Sep 1902 | Gilliam, J. C. | 30 | Harlan | Benoms Spur | Gilliam, Jacob C. | 2 Feb 1903 | 66733 | 120, page 30 | Warrant #6: 0 |
| 11 Jan 1870 | Gilliam, John | 150 | Harlan | Looney Cr. Cumberland R. | Gilliam, John | 28 Apr 1871 | 45232 | 80, page 382 | |
| 12 Oct 1882 | Gillum, Dixon | 50 | Harlan | Looney Cr. Poor Fk. Cumberland R. | Gilliam, Dixon | 16 May 1883 | 57709 | 104, page 481 | |
| 15 Dec 1844 | Gilliam, Jacob | 50 | Harlan | Looney Cr. Poor Fk. | Farmer, Lewis | 2 Jul 1845 | 06236 | 13, page 256 | Warrant #1: 258 |
| 18 Dec 1844 | Gilliam, John | 100 | Harlan | Laurel Br. Looney Cr. Poor Fk. | Gilliam, John | 2 Jul 1845 | 06237 | 13, page 257 | Warrant #1: 263, #2: 234 |
| 19 Jan 1882 | Gillom, Martin | 50 | Harlan | Looney Cr. Clover Lick Cr. | Gillom, Martin | 20 Mar 1883 | 57511 | 104, page 283 | |
| 2 Sep 1902 | Gilliam, Dixon C. | 45 | Harlan | Benoms Spur | Gilliam, Jacob | 2 Feb 1903 | 66732 | 120, page 29 | Warrant #6: 0 |
| 24 Feb 1891 | Gilliam, Martin | 50 | Harlan | Bull Cave Br. Razor Fk. Clover Fk. Cumberland R. | Gilliam, Martin | 10 Oct 1891 | 64472 | 115, page 539 | |
| 26 Aug 1839 | Gillum, John | 100 | Harlan | Looney Cr. | Gillum, John | 18 Jul 1843 | 04649 | 10, page 255 | Warrant #1: 13 |
| 26 Jan 1882 | Gillom, Dixon | 50 | Harlan | Clover Lick Cr. | Gillom, Dixon | 20 Mar 1883 | 57516 | 104, page 288 | |
| 3 Apr 1843 | Gilliam, Jacob &c. | 400 | Harlan | Looney Cr. Poor Fk. | Dixon, John | 2 Jul 1845 | 06229 | 13, page 249 | Warrant #1: 145 |
| 30 Apr 1851 | Gilliam, John & Gilliam, Jesse | 200 | Harlan | Clover Lick Cr. Poor Fk. | Gilliam, John & Gilliam, Jesse | 18 Oct 1852 | 20397 | 37, page 351 | |
| 30 Dec 1846 | Gilliam, John | 50 | Harlan | Looney Cr. Poor Fk. | Gilliam, John | 19 Jul 1848 | 11932 | 24, page 93 | |
| 8 Feb 1882 | Gillom, William | 15 | Harlan | Looney Cr. Poor Fk. | Gillom, William | 20 Mar 1883 | 57521 | 104, page 293 | |
| 9 Mar 1911 | Gilliam, W. C. | 1 20/100 | Harlan | Looney Cr. Poor Fk. Cumberland R. | Gilliam, W. C. | 08/02/1911 | 68720 | 123, page 477 | Warrant #6: 0 |
| 12 Aug 1920 | Gillum, Jno. C. | 2 1/20 | Johnson | Keatons Fk. Big Blaine Cr. | Gillum, John C. | 11/26/1920 | 69481 | 125, page 301 | |
| 2 Aug 1881 | Gillum, C. C. | 100 | Knox | Richland Cr. | Gillum, C. C. | 14 May 1883 | 57693 | 104, page 465 | |
| 2 Mar 1858 | Gillum, Anderson | 78 | Knox | Rye Cove Br. Tuggle Br. Big Richland Cr. | Gillum, Anderson | 23 Nov 1859 | 31353 | 56, page 351 | |
| 2 Mar 1859 | Gillum, Anderson | 25 | Knox | Tuggle Br. Richland Cr. | Gillum, Anderson | 23 Nov 1859 | 31359 | 56, page 357 | |
| 7 May 1877 | Gillum, Cornelius C. | 150 | Knox | Bowman Br. Richland Cr. | Gillum, Cornelious C. | 4 Oct 1877 | 53451 | 97, page 138 | |
| 2 Feb 1865 | Gilliam, Peter | 80 | Lawrence | Big Blain Cr. | Gilliam, Peter | 12 Jul 1865 | 36072 | 65, page 283 | |
| 2 Feb 1865 | Gilliam, Peter | 37 | Lawrence | Blaine Cr. | Gilliam, Peter | 12 Jul 1865 | 36073 | 65, page 284 | |
| 25 Jul 1856 | Gilliam, Peter | 50 | Lawrence | Big Blain Cr. Road Fk. | Gilliam, Peter | 24 Jun 1857 | 27620 | 49, page 141 | |
| 30 Aug 1879 | Gillum, James M. | 200 | Logan | None | Gillum, James M. | 31 Aug 1880 | 54630 | 99, page 222 | |
| 16 Nov 1903 | Gilliam, Jessie | 50 | Morgan | Lower Sand Lick Open Fk. Paint Cr. Big Sandy | Gillam, Jessey | 09/01/1905 | 67709 | 121, page 451 | Warrant #6: 0 |
| 19 May 1876 | Gillam, J. G. | 130 | Morgan | Lower Sand Lick Fk. Open Fk. Paint Cr. | Gillam, J. G. | 12 Mar 1877 | 53254 | 96, page 499 | |
| 2 Sep 1861 | Gillom, Charley | 50 | Morgan | Little Sandy R. | Gillom, Charley | 21 Aug 1862 | 34932 | 63, page 133 | |
| 20 Dec 1865 | Gillom, Isaiah | 111 | Morgan | Little Sandy R. | Gillom, Isaiah | 3 Sep 1866 | 38032 | 69, page 101 | |
| 21 Dec 1865 | Gillum, Isaiah | 112 | Morgan | Little Sandy R. | Gillom, Isaiah | 3 Sep 1866 | 38031 | 69, page 100 | |
| 21 Sep 1861 | Gillom, John | 100 | Morgan | Little Sandy R. | Gillom, John | 21 Aug 1862 | 34931 | 63, page 132 | |
| 23 Mar 1861 | Gillom, Izaah | 100 | Morgan | R. Fk. Newcomb Cr. | Gillom, Iza. | 26 Dec 1861 | 34681 | 62, page 369 | |
| 25 Apr 1888 | Gillam, Hiram | 39 3/4 | Morgan | Elk Fk. Licking R. | Gillam, Hiram | 12 Mar 1890 | 62723 | 112, page 465 | |
| 26 Apr 1888 | Gillam, Peter & Smith, Sarah | 89 | Morgan | Meadow Br. Elk Fk. Licking R. | Gillam, Peter & Smith, Sarah | 12 Mar 1890 | 62722 | 112, page 464 | |
| 13 Dec 1850 | Gillum, John | 200 | Perry | Big Cr. Hixes Br. | Gillum, John | 15 Apr 1856 | 25034 | 44, page 586 | |
| 17 Aug 1849 | Gillem, John | 300 | Perry | Laurel Fk. Maces Cr. N. Fk. Kentucky R. | Gillem, John | 1 Jul 1850 | 15004 | 29, page 441 | |
| 1 Dec 1857 | Gillum, John | 100 | Pike | Elkhorn Cr. | Gillum, John | 12 Apr 1860 | 31960 | 57, page 447 | |
| 27 Nov 1882 | Gillam, Mark | 15 | Pike | Stone Coal Cr. | Gillam, Mark | 26 Jul 1883 | 58086 | 105, page 314 | |
| 6 Apr 1880 | Gillum, D. L. | 25 | Pike | Road Fk. Stone Cole Cr. | Dils, John Jr. | 21 Jun 1883 | 57835 | 105, page 63 | |
| 20 Mar 1880 | Gilliam, L. E. | 40 | Todd | Clifty Cr. | Gilliam, L. E. | 17 Sep 1881 | 55187 | 100, page 237 | |
| 7 Nov 1879 | Gillam, James L. | 3 | Todd | Clifty Cr. | Shemwell, W. G. | 17 Sep 1881 | 55186 | 100, page 236 | |
| 8 Mar 1850 | Gillum, Milton W. | 7 | Todd | W. Fk. Red R. | Burrus, Nathaniel | 6 Oct 1852 | 20342 | 37, page 296 | |
---
Sources